Production method of rod wire are fabric wire and tensile wire and The most widely used tools in various industries such as carpentry, handicrafts, technical affairs
Marketing in Middle East Steel and Metals Market
If you want to trade in the Middle East Steel and Metals Market, please join in Anbar Asia. Your order will be shown here, so the traders of Middle East contact you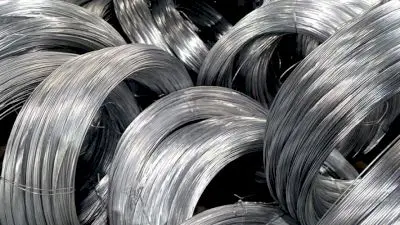 Rod wire is one of the most widely used tools in various industries such as carpentry, handicrafts, technical affairs and so on. This material can be used both directly and indirectly in the production of other products. Rod wire is made of only one strand. These wires are very soft and flexible and at the same time have high resistance and they are mentioned as one of the important industrial tools.
Rod wires are divided into two types of fabric wires and non-fabric wires, the first type is caused by the tension and thinning of the round rod and the second type is made of metal belts. In general, there are different types of wire.
In another category, these wires are divided into two categories: black and white rod wire, which we will discuss below:
Black wire (reinforcing wire): Black wire is created during the process of stretching and heating at temperatures above 900 ° C, and this makes this type of wire flexible and soft. Black wire is marketed as coiled or twisted and is easily portable.
Wire is classified into two types in terms of production method, which are fabric wire and tensile wire. Fabric wire, as its name implies, is directly produced in the factory. This type of wire is produced in the factory using hot rolling process and is offered in the market in the same way.
But in the case of tensile wire, after the billets are made of mild steel, they are placed in special rolling machines for tensile wire and gradually cold tensing operations are applied on it. The frequency of cold tensile operations depends on the final desired thickness of the production wire. The thinner the wire, the more cold traction is required.
Although the cold drawing process is not unlike extrusion or work output, because the mold and press machine is used to roll the wire, it is practically called rolled wire or tension wire.