Diamond is one of the most precious stones in the Middle East and has a very high value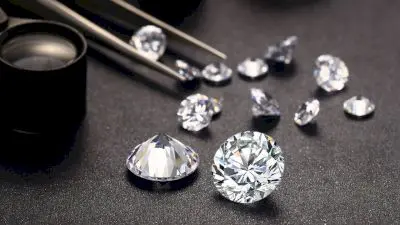 The hardest mineral belongs to diamond. There are different colors of diamonds, the most famous of which are white and blue. Diamond is one of the most precious Gemstones in the Middle east and has a very high value. The high value of a diamond is due to its high hardness, shiny luster, and high dispersion.
Also, it is completely insoluble in acids and bases and reduces the clarity of diamonds by cracking, breaking, scratching, and cracking. Diamonds are usually formed at a depth of 100-200 km below the ground and a temperature of about 900-1300 ° C and a pressure between 45-60 kbar. Diamonds are mined in Siberia, Australia, Botswana, Brazil, India, and Russia. In Iran, ophiolite belts are among the areas prone to diamond exploration.
In pre-Islamic Iran, not much attention was paid to diamonds. Iranian scientists such as Abu Rihan al-Biruni and Abu Ali Sina have studied this mineral in the Islamic period; the ancient Iranians did not pay much attention to diamonds due to the lack of mines in Iran or nearby lands.
Posted on Wednesday, June 14th, 2017 in Diamond, Gemstones, Informational. We all know diamonds are one of the most mesmerizing gemstones available, but what makes these gems truly exceptional? Their impact on the world is one that goes beyond adorning the fingers, ears, necklines and wrists of those fortunate enough to wear diamond jewelry.  More often than not, you hear all of the negative stories surrounding the diamond industry when in fact, diamonds are doing a lot of good. Not everyone realizes that the diamond industry is part of a lot of different philanthropic endeavors that are benefiting communities across the world. Diamonds are furthering women's education. This organization, funded partially by diamond companies such as Diamonds Unleashed, awards scholarships to women in low income countries with the hopes of narrowing the gender gap. Diamonds are providing better access to clean water. One of the world's largest diamond producers, Rio Tinto installed numerous wells that transport water to collection tanks inside Asian villages via solar-powered pumps. Diamonds are allowing access to higher education. The Diamond Empowerment Fund has contributed to organizations that provide scholarships to impoverished African youth so that they are able to obtain the skills and confidence needed in order to lift them out of poverty and find good jobs. Diamonds are helping protect wildlife. Dominion Diamond Corporation designed and implemented an award-winning Grizzly Bear DNA monitoring program that is being used to track the sub-arctic bear population and ensure that the population remains stable for years to come. Diamonds are supporting underprivileged children. In addition to all of these inspiring stories, there are countless other examples that illustrate all the positive social and economic impacts made by the diamond industry. To read more about diamond initiatives that are helping to empower communities across the world, visit www. diamondsdogood.