Chrysocell has a similar appearance to turquoise and its color is green and blue with a semi-transparent appearance
Marketing in Middle East Gemstones Market
If you want to trade in the Middle East Gemstones Market, please join in Anbar Asia. Your order will be shown here, so the traders of Middle East contact you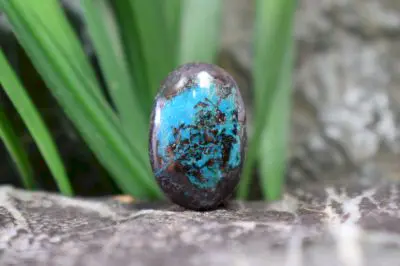 This stone has a similar appearance to Turquoise and its color is green and blue with a semi-transparent appearance. It is the only mineral that is very similar to turquoise, but due to difficult differences, they can be distinguished. Chrysocolla is a type of Gemstones with a beautiful sky blue to bluish-green color.
This mineral is found in abundant Copper deposits in the oxidized zone. In the United States, Australia, Zaire, Zambia, Russia, Britain, and Iran, it is found in an area in Quchan (Chekneh - Abdullah Givi).
TEHRAN – Head of National Iranian Copper Industries Company (NICIC) has said the country's copper production is going to break new records in the current Iranian calendar year (ends on March 20). Speaking on the sidelines of the 16th International Exhibition for Mines, Construction Machinery and Related Industry and Equipment (Iran ConMin), Ardeshir Sa'd-Mohammadi announced a 12-percent increase in the Sarcheshmeh Copper Complex's production in the current year. He also noted that the production of the copper anode is also going to hit a new record by the yearend. "This year, the production of the copper anode in the country will grow by 16 percent," he said. According to Sa'd-Mohammadi, Iran's copper production capacity is going to reach 550,000 tons by the Iranian calendar year 1403 (begins on March 20, 2024). 5 billion of new investment made in Sarcheshmeh Copper complex, and the implementation of 29 new projects in this industry, we hope that the country's copper production capacity will reach 550,000 tons by the year 1403. He pointed to the high quality of the Iranian copper, saying: "Iranian copper has a very good quality and with 99. 999 percent purity, has its own customers around the world and we hope with this quality of products we can improve our global position in the copper industry. Production of the copper anode in Iran rose 16 percent during the first eight months of the current Iranian calendar year (March 20-November 20, 2020), from the same period of time in the previous year. Iran has seen its copper exports doubled in the past Iranian calendar year despite a series of bitter sanctions imposed by the United States aimed at hampering the Islamic Republic's trade of lucrative metals. A senior official at Iranian Mines and Mining Industries Development and Renovation Organization (IMIDRO), Iran's largest metals and mining holding, has said that the value of exports for main copper products reached more than $1 billion over the past year.