Significant reserves of yellow topaz crystals are found in Siberia and pink crystals in Russia and blue crystals are found in Ukraine, Brazil, Sri Lanka, and Pakistan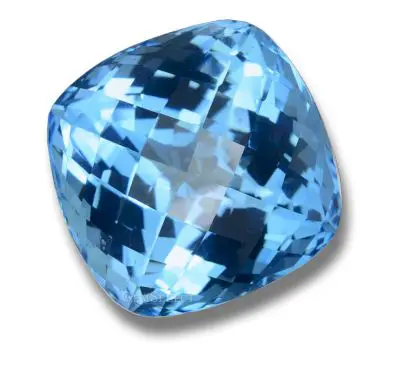 The hardest silicate mineral belongs to these Gemstones have golden, yellow, and brown colors. Topaz is the hardest silicate mineral and one of the hardest Minerals in nature (hardness 8). Its common color is golden brown to yellow.
Significant reserves of yellow topaz crystals are found in Siberia and pink crystals in Russia and blue crystals are found in Ukraine, Brazil, Sri Lanka, and Pakistan.
In Iran, some pegmatite veins of Alvand Granite contain topaz. Its effects have also been observed on the island of Hormuz.
Round, silver-white topaz, 18. The traditional November birthstone, topaz is a popular gem. Although frequently associated with golden yellow as well as blue, it can be found in a variety of colors, including colorless. The rarest are natural pink, red, and fine golden orange, sometimes with a pink tone. Although clarity and size have a significant effect on the value of topaz, color has the greatest impact on pricing. Intense, reddish orange topaz is sometimes called "imperial topaz. Colorless topazes are common and are low-value gems in any size. Topaz, Russia, (17. The term "precious topaz" refers to stones with a rich yellow to a medium, peachy orange color. Oval-cut precious topaz, 11. Blue has become the most popular color for topazes on the market today. However, almost all such gems began as colorless or pale blue topazes. Blue topazes are very inexpensive. Oval-cut, "Swiss blue" topaz, 6. For more information on topaz quality factors, consult our buying guide and engagement ring guide. Topazes: Russia (6. Traditionally, all yellow, brown, and orange transparent gems were called topaz. Because of topaz's long association with the color yellow, citrines are sometimes misidentified as topazes. Topaz has different physical and optical properties than citrine, most notably greater hardness and brilliance. Custom-cut imperial topaz, 9. The specific gravity (SG) and optics of topaz vary by stone color. Topaz on albite. While topaz has been synthesized in labs, it's not usually commercially available. In the 1960's, a two-step method was discovered to turn colorless topaz blue. This pear-shaped topaz (18. It's possible this was a white topaz turned brown by irradiation. Prior to this development, natural, light blue topaz was rare and valuable, while colorless topaz was common and could be purchased cheaply per ton. The aftermath: prices for blue topaz fell, and these are now among the least expensive gems available. Blue topaz, irradiated and heated, approximately 115 cts. Topaz that has undergone this treatment and been turned dark blue is sometimes used as a simulant for aquamarine. However, since topaz is typically less expensive than aquamarine, consumers should be wary of unscrupulous vendors who may try to sell treated topaz as aquamarine. Heat treatments are also used to change some yellow, orange, and brown topaz to pink or red. This untreated, naturally medium-blue topaz from Brazil contains inclusions of hematite platelets and fluid-filled cavities. A chemical vapor deposition treatment (CVD) is used to create mystic topaz, a stone with a multicolored coating on its surface. Mystic topaz ring. Brazil is the principal source of gem-quality topaz. Untreated, very pale blue to colorless topaz, 6. Russia is another major source of gem-quality topaz. Sanarka produces pink topazes. Cluster of light sherry-colored topazes on matrix, 5. Orange topazes on a rhyolite matrix, 2. Cushion-cut, pinkish brown topaz, 32. Tumbled, uncut, colorless topaz rough, 40-piece lot, 94. Topaz crystals may weigh hundreds of pounds and are often quite gemmy at this size. Museums seem to delight in obtaining monster-sized topaz gems for display. Pink gems over 5 carats (Pakistan) are rare, however, and a Brazilian deep orange gem weighing more than 20 carats is considered large. Topaz, Pakistan (36 cts, set in ring). The largest known pink topaz is an oval of 79+ carats from Russia. The largest Brazilian topaz crystal ever found of an orange color reportedly measured 5 x 27 cm and weighed nearly 2 kg. Giant topazes exist in blue, colorless, and pale yellow colors. Red topaz from the tips of some Brazilian crystals is exceedingly rare, the largest about 70 carats. On display at the Smithsonian Institution, this 12,555-ct topaz has over a thousand facets. Smoky quartz gemstones are sometimes erroneously referred to as "smoky topaz," "Brazilian topaz," or "Madeira topaz. Do these gold earrings from 19th-century Spain contain garnets, zircons, or topazes? Historically, the names "hyacinth" or "jacinth" described reddish brown stones. Nevertheless, you may still encounter these terms applied to topazes with this color. Due to topaz's perfect cleavage, don't use ultrasonic or steam systems to clean them. Some prongs can place stress on topaz's cleavage plane. Protective settings can also minimize the strain on a topaz. 14k yellow gold ring featuring a fantasy-carved blue topaz, accented by four full-cut diamonds and three opal inlays. Topaz requires specific and unusual conditions to form. Learn how topaz develops and how it gets its colors, from yellow and blue to rare and valuable…. You can probably find a topaz engagement ring stone in your favorite color at a reasonable price. How can you determine the gold karatage of an item and learn if it's gold-filled or plated? This simple technique will do the trick.