Special and rough texture makes the use of these stones in the facades of buildings or paving of outdoor spaces give special antiquity and originality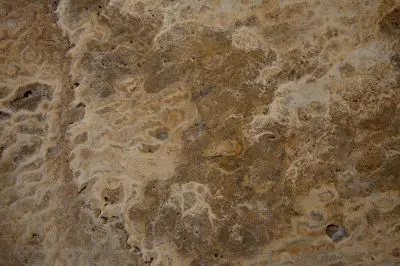 Travertine Stones are usually available in ivory white or completely white and caramel. More common colors are naturally more economical as well, while stones with rarer colors are often much more expensive.

White and light colors have the highest distribution among other colors of Travertine and therefore, have a lower price than other colors. The color of each Stone is due to the salts and elements that are present in the warm waters of the rock.

The lower the number of solutes and elements soluble in these waters, the lighter the color of the stone, and the more elements, the darker and more expensive the stone. There are special and popular colors such as brown, gold, and gray that are sold at very high prices and have their buyers.

Long life and extremely high strength of travertine stones is another important competitive advantage. Travertine stones often travel long distances to reach their destination, and often do not suffer much damage along the way.

They also have high Chemical and thermal resistance and are especially suitable for cold environments at higher thicknesses.
Of course, it should also be borne in mind that travertine stones are usually vulnerable to constant freezing and thawing, and therefore should not be used in cold spaces and environments to use thin thicknesses of these stones.

Travertine tiles are very popular not only for interior but exterior too. Travertine tiles have evolved as a perfect building material for decorating home and garden. From vast array of travertine any one can be chosen of different styles to suit different tastes. Travertine tile is a natural stone with unique pattern that varies in colour. The colour range starts from ivory to rich browns and even gold. Moreover, developed technology to bring more atheistic appeal with better finish to the travertine enables ordinary stone to enjoy better overall appearance. Undoubtedly, travertine tiles are getting huge popular in every country due to the versatility it offers to the user. The application areas of travertine tiles at home are wide. The kitchen is another area of application that enhances the beauty of travertine under spot lights. Another very popular use of travertine is in the garden area. Travertine floors have another interesting characteristic which has helped bring them to the forefront of many designer creations. This effect is now prized by professionals and is quite unique to travertine. Being a stone, travertine is more hard-wearing than most floor materials but it still susceptible to damage if not treated correctly. Most people believe that running a damp mop over their travertine floor is ok, but in actual fact this can tend to leave residues on the surface. Acid based liquids such as wine and fruit juices rich in vitamin C can score the travertine's surface if left to stand after spilling.