Travertine, some forms of which are often known as 'tufa', is of particular significance as a source of environmental information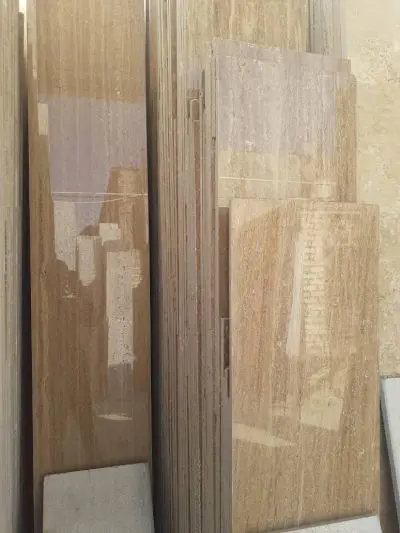 Travertine is a limestone that is formed by the activity of hot springs. In general, during the process of forming Travertine deposits, hot water passes through the layers of carbonate rocks, especially limestone, and due to its acidity, dissolves the calcium carbonate in these Rocks and forms it as a carbonate and bicarbonate solution when they move themselves to the ground.
On the surface, due to the pressure drop, the decrease in the heat of carbon dioxide release as well as evaporation, calcite crystals are formed and deposited in thin layers on top of each other. The stability of the mentioned conditions and the continuation of the formation of calcite layers, causes the formation of uniform layers of porous calcium carbonate (travertine) whose thickness varies from a few centimeters to several meters and usually with a gentle slope on the old Rock layers.

Changing the deposition conditions can cause an interruption in the formation of these layers, which results in a separation surface between successive layers of travertine. The total thickness of travertine layers usually varies from a few meters to several tens of meters.
The presence of air hub bubbles as well as impurities of divalent iron, trivalent iron, manganese, silica, organic matter, etc. cause considerable color variation in travertine reserves in white, milky, cream to beige, pink, brown , Gold, yellow, lemon, red and green can be formed. In addition to the variety of colors that create a special beauty in these types, this type of Stone can be cut from two different directions.

The creation of travertine barriers is a dynamic process of the combined action of physical and chemical factors and living organisms in the water. Travertine structures are formed in water with high concentrations of dissolved calcium bicarbonate Ca(HCO3)2. The formation of travertine begins at the rapids, at uneven places in the river bed, on submerged branches and the like. Bacteria, algae and mosses must be present for the deposition of travertine, as travertine attaches to the surface of the moss in the form of microcrystals of calcite that adhere to the sticky secretions of blue-green algae and some species of diatomaceous algae. travertine will be deposited, thus forming a new "brick" in the building of the waterfall. The process of travertine-building and the growth of travertine barriers is only possible in waters that are oversaturated in calcium carbonate, with a low concentration of organic matter and pH greater than 8. In addition to these three fundamental conditions, travertine-building is greatest at higher air temperatures and water flows faster than 0. The youngest travertine structures will encrust blue-green algae, which then allows for the settlement of light mosses and more vegetation. More vegetation shade the waterfalls and allow for the development of shady mosses, which most stimulate the growth of travertine.