Travertine stones are suitable for interior and exterior facades of the building due to their very high porosity
Marketing in Middle East Travertine and Natural Stones Market
If you want to trade in the Middle East Travertine and Natural Stones Market, please join in Anbar Asia. Your order will be shown here, so the traders of Middle East contact you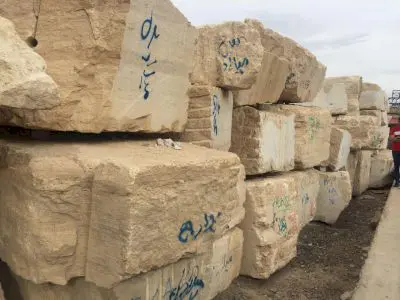 This porosity allows the Cement slurry to penetrate these spaces and act as a natural scope. Travertine stones can be used on the building facade even in very cold and rainy areas without worrying about dropping stones. In the interior, this stone can also be used for the following users:
Wall base
Stone next to the stairs
Travertine stones from the external and internal characteristics in their external form to their specific dimensions can be mentioned. First, you should know the types of dimensions of building stones, and then we will go to the specific dimensions of the stone. The rocks that are first extracted are raw and no special processing and work have been done to use them.
Well, this stone, which has just been extracted from the heart of different mines, is raw, and the dimensions of this raw stone are called cups or slates. After cutting, which is a completely raw stone without cutting and processing, it is slab stone, which is the result of cutting stones in the dimensions of the cutting, but with a much less thickness than the cup. Tile stones are those that are smaller than slab stones and are less thick. One of the characteristics of tile stones is the ease of transportation compared to the dimensions of previous stones.

Travertine has been used for centuries to build exquisite architectural marvels that are still standing to this day, and its proven durability and lasting beauty have continued to prompt builders and homeowners to choose travertine tiles or pavers in modern building projects. Here are some of the common uses for travertine that residents and builders are taking advantage of in today's projects. Travertine tiles are a great choice when it comes to floors and walls. Kitchens, hallways, foyers and bathrooms can all benefit from travertine floors, which can suit a variety of decor styles and stand up to frequent foot traffic and kitchen messes when they're properly sealed. Travertine tiled walls are a popular choice for impressive hotel lobbies or convention centers. If you have a pool in your backyard, travertine pavers can be a fabulous choice for the deck. Whether you have a patio in the back of your home or a courtyard in back of a hotel, travertine pavers are an impressive choice that will dazzle your guests. Travertine as pool coping can provide a non-slip surface along with a seamless look, turning your pool into a spa-like oasis. There's nothing exciting about concrete driveways, but travertine pavers can add a wow factor to your property. Stair Treads Inside or outside, travertine tiles and pavers can make for some stunning stairways. Whether you need a nice stoop for your front door or a step or two leading to an elevated room in your home, travertine is an elegant choice.