Compounds are used in industrial and manufacturing processes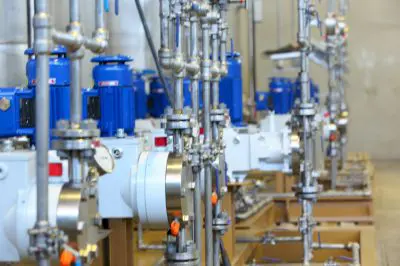 Compounds are used in industrial and manufacturing processes. Some of these industrial materials are used only in industrial production processes, while many others are used as ingredients in commercial products that appear in consumer markets.
The class of these industrial materials is very wide and includes a list of Chemicals such as solvents, reactants, lubricants, coatings, paints, inks, stabilizers, emollients, fragrances, fire retardants, conductors, and insulations.
Because of the potential for terrorist events, many have expressed concern about the possibility of a terrorist attack involving toxic industrial chemicals (TICs), or toxic industrial materials (TIMs). The following frequently asked questions will help workers understand what toxic industrial chemicals are and how they may affect their health and safety. Toxic industrial chemicals are industrial chemicals that are manufactured, stored, transported, and used throughout the world. Toxic industrial chemicals can be in the gas, liquid, or solid state. There are large quantities of toxic industrial chemicals manufactured, stored, transported, and used throughout the United States which, if obtained by terrorists or caused to be released, may have extremely serious effects on exposed individuals. Many toxic industrial chemicals are highly toxic and may rapidly affect exposed individuals. Toxic industrial chemicals (whether as a gas, aerosol, or liquid) enter the body through inhalation, through the skin, or through digestion. Information related to how the chemicals affect humans and symptoms of exposure to specific chemicals can be found in material safety data sheets (MSDS) or chemical information cards. If you are exposed to a toxic industrial chemicals attack, get away from the impacted area quickly without passing through the contaminated area, if possible. If available, a good way to protect yourself from a toxic industrial chemicals is to wear suitable chemical protective clothing and respiratory protection. However, it must be stressed that this protective equipment does not always work against toxic industrial chemicals. OSHA has set occupational exposure levels for workplace exposure of employees to many toxic industrial chemicals. Environmental Protection Agency (EPA) is recommending Acute Exposure Guideline Levels (AEGLs) that describe the dangers to humans resulting from short-term exposure to airborne chemicals. First responders should consider the possible impact of a release of toxic industrial chemicals and address these in their health and safety plans (HASPs). There are a wide variety of direct reading instruments and analytical sampling and analysis procedures available for detecting toxic industrial chemicals. During a chemical release, or after a release has occurred with no information available about the the duration of the release or the airborne concentration of toxic industrial chemicals, at a minimum, level B protection should be used. 120(q)) provides additional information for responding to hazardous substance releases including toxic industrial chemicals.