Georgia is one of the countries on the border of Western Asia and Eastern Europe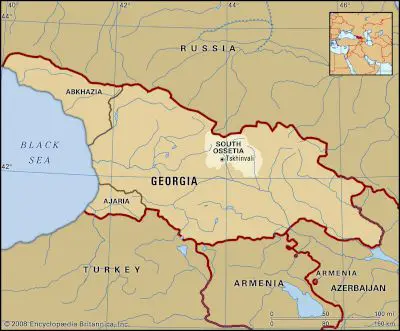 Georgia is trying to be recognized as a member of the European Union and located in the east of the Black Sea and is known as one of the most attractive tourist countries in the world. Georgia tour is one of the most popular foreign tours among Iranians.
If you've never been to Georgia, you'll definitely want to know where it's located in this vast world. Georgia, like Turkey, is a Eurasian country, meaning that part of it is located in Asia and part in Europe.
According to geographical studies, the country is located in the Caucasus region and borders Russia in the northern parts. The Republic of Azerbaijan, as one of the Muslim countries, is located in the neighborhood of this country and in the east and southeast of this country. Turkey and Armenia are also in southern Georgia. The western parts are also adjacent to the Black Sea.
Area and population of Georgia
Georgia is one of the smallest countries in terms of population and area. Of course, this rate is very significant in relation to a country like Iran, because many countries are not much different in terms of area and population with Georgia. With an area of ​​69,700 square kilometers, the population was 3,700,000 at the last census, and it is interesting to note that approximately 45% of the country's population lives in Tbilisi.
A significant part of the country's area is dedicated to high mountains, rivers, beaches and other tourist attractions. There are 65 people per square kilometer in this country and it can be said that the population density in this country is very low. Of course, we should not ignore the fact that the high population of Tbilisi has caused the population density in the capital to be very high. Some days of the year face semi-heavy traffic.
The capital of Georgia
Tbilisi is the name of the city that has been chosen as the capital of Georgia. The city is made of a beautiful architecture that is a combination of streets and modern and old buildings and has an extremely beautiful view. There are so many historical and natural attractions in this city that they cannot be summarized in one short topic. Tbilisi means hot springs and the name is derived from the hot springs that can be seen throughout the city.
One of the most beautiful natural attractions in the city is the Ker River, which flows through the city and divides the city of Tbilisi into two parts. Tbilisi is located on the Silk Road and has been one of the most important communication routes between the West and the East since ancient times. The city of Tbilisi has semi-cold winters, so it is better to have a suitable plan for traveling to this country in other seasons of the year.