Georgia is a developing country with
Marketing in Georgia Market
If you want to trade in the Georgia Market, please join in Anbar Asia. Your order will be shown here, so the traders of Georgia contact you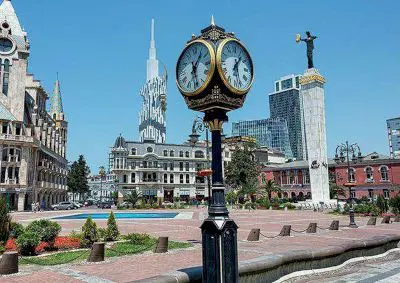 Georgians speak Georgian. Georgia is one of the oldest and most original languages ​​in the world, so it is said that this language can be considered one of the ten languages ​​that humans first spoke. Their script is also derived from the originality of the language and is known as Georgian script.
The official religion in Georgia, like in Europe, is Christianity, except that the religion of most people is Orthodox and makes up 83% of the population. The proportion of Muslims in this country is about ten percent.
The difference between the Shiite and Sunni populations is not significant. About four percent of the population is Christian and Armenian, but Catholics are few and far between, and less than one percent.
Politics in Georgia
In the Socialist Republic of Georgia, the president is both the head of state and the head of government. The president is elected by popular vote for a five-year term. The prime minister is also in charge of some ministries.
The country's legislature has 235 seats, elected by popular vote for a five-year term.
People of Georgia
The population of this country is 4,630,000 people with an average age of 38 years. Population growth in this country is negative. Life expectancy is 80 years for women and 73 years for men.
The official language of this country is Georgian, which also has its own alphabet. About 84% of the people in this country are Orthodox Christians and 10% are Muslims.
Economy in Georgia
The country's GDP is $ 19.65 billion. Two million and 20 thousand people make up its labor force. The unemployment rate in this country is 13.6%. About 31% of people live below the poverty line. In 2007, the inflation rate was 11 percent.
Its export products include scrap iron, mineral water, iron ore, vehicles, fruits and nuts, which are exported to Turkey, Azerbaijan, Russia, Armenia, Turkmenistan, Bulgaria, USA, Ukraine, Canada and Germany.
Its imported products include fuel, vehicles, machinery, legumes and other foodstuffs and medicines imported from Russia, Turkey, Germany, Ukraine and Azerbaijan.