The highest quality and has a clear and vivid green color with high purity

Notice: Undefined variable: listTitle1 in /home/anbarasi/domains/anbar.asia/anbar/inc/html/desktop/orderform.php on line 14


Notice: Undefined variable: listHeader in /home/anbarasi/domains/anbar.asia/anbar/inc/html/desktop/orderform.php on line 17

Email
Phone
Country
Reg. date
d...n@...com
009...250
Iraq
2023-02-07
s...6@...com
+90...764
Turkey
2023-01-22
x...3@...com
009...818
Yemen
2022-04-08
s...4@...com
096...255
Oman
2022-12-26
g...6@...com
009...733
Turkey
2022-11-24
a...i@...com
967...959
Yemen
2023-01-16
p...i@...com
+90...431
Turkey
2023-01-09
M...i@...com
009...083
Turkey
2023-01-13
a...y@...com
002...023
Egypt
2023-01-19
r...y@...com
010...223
Egypt
2022-12-04
m...5@...com
770...402
Yemen
2022-10-19
a...a@...com
009...150
Yemen
2023-02-03
t...8@...com
009...309
United Arab Emirates
2022-12-09
h...2@...com
009...228
Iraq
2022-05-24
g...y@...com
772...932
Yemen
2022-05-24
A...a@...com
+20...583
Egypt
2022-11-08
a...1@...com
009...800
United Arab Emirates
2022-11-08
A...3@...vom
+96...974
Yemen
2023-01-05
S...9@...coM
565...201
Saudi Arabia
2023-01-12
m...h@...com
733...796
Yemen
2022-05-04
m...k@...com
021...021
Oman
2023-01-24
t...y@...com
+96...092
Yemen
2022-11-17
n...2@...com
009...200
Yemen
2023-02-03
A...m@...com
009...007
Yemen
2022-09-15
m...m@...com
009...495
Afghanistan
2022-10-04
...
...
...
...
...
...
...
...
Only site users can see contact details
Please sign up to see complete contacts information
Marketing in %s market of Middle East Jade and Gemstones Market
If you want to trade in the Middle East Jade and Gemstones Market, please join in Anbar Asia. Your order will be shown here, so the traders of Middle East contact you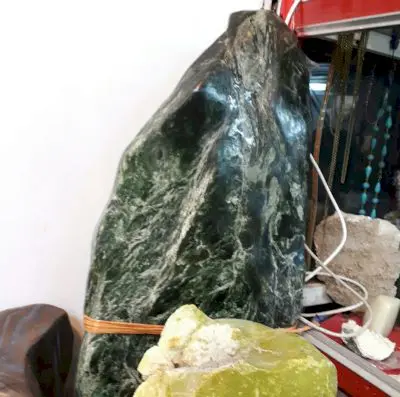 • Imperial Jadeite (Ahye Kyauk Stein): As its name suggests, it is known as imperial Jade and its highest quality and has a clear and vivid green color with high purity and is used in small pieces.
• Commercial Jade (At the Kyauk): used in engraving on necklaces or ornaments.
Utility (At the Kyauk): Used in carving or sculpting, etc.
Types of Jadeit Improvements
The quality of Jadeite can be increased by stabilizing and improving. In terms of color quality and structure, jadeite stone is divided into several categories:
Category A: This category is a good type of jade, which can have a high price depending on its transparency and color.
Category B: which is often not worth processing and improving due to its not so good structure and color, and only injects wax and polymer materials on its surface and its purity and transparency is greatly improved.
Category C: These categories are often painted industrially. In improving the red type, red jade is heated, but the risk is high and even its initial clarity may be lost and it may turn a dead brown color.
Category B-C: In this category, the above two methods are used and dyed industrially and then injected into it.
Category D: This sample is made as a double like opal stone and the upper part and the facade are made of jade and the lower part is made of plastic.