The world's building stone reserves reach about 15 billion tons, including granites, marbles, travertine and alabaster, among which, Iran has taken the world first place due to the variety of colors and quality of Iranian-made stones with 4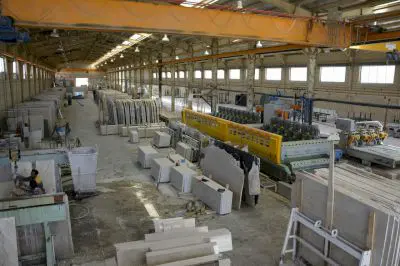 Among materials used in the manufacture of buildings in stone. Stones are a relic of thousands of years of pressure and heat of the earth's inner layers to lime and sediment. There are more than a hundred types of natural stone, but only a few types, in particular, can be used as building stones. The Middle east Stone industry is nothing short of stone industry of Italy, China and India.
Statistics show that the Middle East is the fourth largest producer of Building stone in the world after Italy, China and India. The world's building stone reserves reach about 15 billion tons, including granites, marbles, Travertine and alabaster, among which, Iran has taken the world first place due to the variety of colors and quality of Iranian-made stones with 4.7 million tons of world reserves.
The Middle East has a high potential for a variety of decorative and Building stones due to the diversity of geological events and obvious Rock cleavage stones which has happened as a result of the low forest cover and soils. One of the God-given advantages of the stone industry in the Middle East is the diversity of its mines. The stone mines include granite, marble, porcelain, crystal, travertine and alabaster, which also have high color varieties.
Now there are 8 thousand and 800 colored Metals mines, industrial soils as well as building stones and stone facade in Iran, among which 1900 mines are allocated to decorative stones. The known capacity of Iran's mines is estimated at 47 billion tons, of which about 4 billion tons are related to decorative stone reserves.
The value of construction projects in the six Gulf Arab states, plus Iran and Iraq, will reach more than $ 697 billion over the next 10 years, according to figures from MEED magazine. Among these, if only the cost of building stones is 5% of this financial volume, for the next decade, there will be about $ 34.85 billion per year in the consumption field.

Turkey exported $ 33.6 million in 1991, a 20-fold increase to $ 622 million in 2004. The definite reserves of the world's decorative stone are about 1.2 billion tons and of this amount, about 15 billion tons of Rocks have been identified in the Middle East, of which 53% is marble, 35% is granite, 10.5% is travertine and less than 1% is a marble.
Based on this, Marble reserves are estimated at 2.16 billion, Granite at about 1.5 billion tons, travertine at about 450 million tons, and marble at 44 million tons. The number of decorative Natural stones extracted in the country last year was 10.6 million tons. The amount of extraction of decorative stones in the country last year was 10.6 million tons.

We are supplying beautiful Travertine tiles ideal for both the home and business from Iran. Company has developed into one of the leading names in Natural Stone Exporting, as well as a leading supplier of Travertine tiles from Iran. We provide customer service of the highest standard and a collection of some of the world's finest Travertine tiles. The experienced team a wealth of expertise and can provide customers with advice and guidance in choosing the right Travertine tiles. When it comes to supplying customers with Travertine tiles we are the only company in Iran who can provide our customers with a complete range of unique Travertine tiles through internet. Iran Travertine is one of the most frequently used Iranian stones in modern architecture and is commonly seen as facade material, wall cladding, flooring and Versailles Pattern . Iran Marble is reputed in the international market for its premium quality, toughness and durability. Iran Onyx shines especially well when used as a backdrop for color play. Granite is available in a wide variety of colors and can be shaped into straight or curved patterns to match virtually any requirements including beautiful kitchens, vanities and bathing areas. (from Iran). Iran Travertine co-operates with famous Iranian factories, equipped with modern Italian machinery. Our choosing includes Marble, Travertine tile, slab, slate, etc. We also supply patterned tiles and mosaics made from Iran Travertine Stones. Travertine tile with Iran origin is famous in particular colors and patterns and such of them like red, yellow, Walnut, Brown, Golden & rich cream without sameness located in Iran, they are famous for using in floor & wall tile. The word "marble" is colloquially used to refer to many other stones that are capable of taking a high polish. Granite is a common and widely occurring type of intrusive, felsic, igneous rock. Granite has a medium to coarse texture, occasionally with some individual crystals larger than the groundmass forming a rock known as porphyry. Granites can be pink to dark gray or even black, depending on their chemistry and mineralogy. Outcrops of granite tend to form tors, and rounded massifs. Granites sometimes occur in circular depressions surrounded by a range of hills, formed by the metamorphic aureole or hornfels. Inside thewebsite: Galleries >> Travertine(Iran) | Iran Marble | Iran Onyx |Iran Grnite | Bathroom Finishing | Floor Finishing | Kitchen Finishing | Wall Finishing | Outdoor Finishing General Info. >> About | Products | Packing/Shipping | F&Q | Sitemap | Contact Us Useful Information>> Iran Information | Travertine Info. | Marble Info. Chiseled Edges, typically on honed or tumbled limestone and travertine tiles, are hand chiseled ¼" to ½" from the edge of the tile to create a more "antique" look. Travertine has been used in the construction of buildings for thousands of year. In today's construction, travertine is used for flooring, cladding on buildings, showers, wall coverings (Indoor and Outdoor) and counter tops.