Among materials used in the manufacture of buildings in stone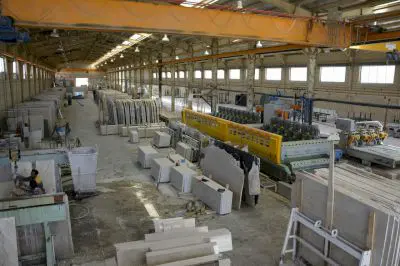 Among materials used in the manufacture of buildings in stone. Stones are a relic of thousands of years of pressure and heat of the earth's inner layers to lime and sediment. There are more than a hundred types of natural stone, but only a few types, in particular, can be used as building stones. The Middle East stone industry is nothing short of stone industry of Italy, China and India.
Statistics show that the Middle East is the fourth largest producer of building stone in the world after Italy, China and India. The world's building stone reserves reach about 15 billion tons, including granites, marbles, Travertine and alabaster, among which, Iran has taken the world first place due to the variety of colors and quality of Iranian-made stones with 4.7 million tons of world reserves.
The Middle East has a high potential for a variety of decorative and building stones due to the diversity of geological events and obvious rock cleavage stones which has happened as a result of the low forest cover and soils. One of the God-given advantages of the stone industry in the Middle East is the diversity of its mines. The stone mines include granite, marble, porcelain, crystal, travertine and alabaster, which also have high color varieties.
Now there are 8 thousand and 800 colored Metals mines, industrial soils as well as building stones and stone facade in Iran, among which 1900 mines are allocated to decorative stones. The known capacity of Iran's mines is estimated at 47 billion tons, of which about 4 billion tons are related to decorative stone reserves.
The value of construction projects in the six Gulf Arab states, plus Iran and Iraq, will reach more than $ 697 billion over the next 10 years, according to figures from MEED magazine. Among these, if only the cost of building stones is 5% of this financial volume, for the next decade, there will be about $ 34.85 billion per year in the consumption field.

Turkey exported $ 33.6 million in 1991, a 20-fold increase to $ 622 million in 2004. The definite reserves of the world's decorative stone are about 1.2 billion tons and of this amount, about 15 billion tons of rocks have been identified in the Middle East, of which 53% is marble, 35% is granite, 10.5% is travertine and less than 1% is a marble.
Based on this, Marble reserves are estimated at 2.16 billion, Granite at about 1.5 billion tons, travertine at about 450 million tons, and marble at 44 million tons. The number of decorative Natural stones extracted in the country last year was 10.6 million tons. The amount of extraction of decorative stones in the country last year was 10.6 million tons.