The Customs of the Islamic Republic of Iran is a governmental organization subordinated to the Ministry of Economic Affairs and Finance
Marketing in Iran Market
If you want to trade in the Iran Market, please join in Anbar Asia. Your order will be shown here, so the traders of Iran contact you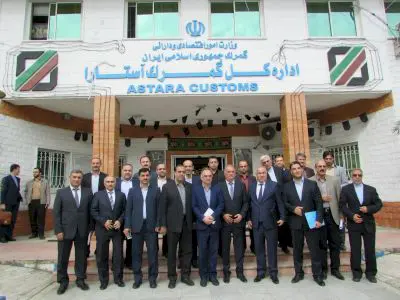 The Customs of the Islamic Republic of Iran plays a pivotal and restrictive role in the country's entry and exit as the country's economic frontier. Import and transit of goods and collection of import duties, customs duties and related taxes, technical requirements, and trade facilitation. The Customs of the Islamic Republic of Iran, to perform its legal duties, determines the levels of executive units required without observing the rules and divisions of the country and Article 1 of the Civil Service Management Law, in proportion to the volume and type of activities.
The assigned missions are prepared by the Customs of the Islamic Republic of Iran and after the approval of the Minister of Economic Affairs and Finance, are approved by the Council of Ministers. The Customs of the Islamic Republic of Iran include the Central Headquarters of the Iranian Customs and the Customs and Enforcement Customs. It is as follows:
a) Applying government policies in the field of export and import and transit of goods
b) Recognition and collection of import duties and other legally receivable funds by the Iranian Customs
c) Carrying out legal formalities for clearance and delivery of goods to the owner or representative His legality and review of clearance documents in order to verify the conditions of clearance and receipt of deductions received or refund of excess receipts - control and supervision of the passage of goods through the territory of the country Customs regulations on exemptions and prohibitions in the sector Definitive exports, temporary exports, definitive imports, temporary imports, cabotage, internal transit of goods, transfers, border clearing transactions, free shops, political packages and couriers, and international mail. And customs smuggling, abandoned and confiscated goods
h) Predicting and providing the infrastructure needed to implement and deploy new systems, procedures, and methods such as a single-window in customs activities x- Collecting, analyzing and publishing import and export statistics
d) Examining and recognizing the obstacles of the customs system and planning to the extent of eliminating them. Inspecting the actions and behavior of customs employees, detecting their violations and administrative faults, inspecting customs executive units and supervising their performance, and organizing the quantity and quality of entry and exit points. And the owner of the goods following the relevant laws and regulations - Expanding international relations, concluding bilateral and multilateral customs agreements and agreements, membership and active interaction with international and customs organizations in compliance with the seventy-seventh principle (1) (Constitution and related laws.
Observing the recommendations of the World Customs Organization, contract) And agreements concluded or exchanged within the framework of relevant laws and regulations; Advanced tools to increase efficiency and improve customs formalities - Provide necessary arrangements to facilitate trade, encourage exports and expand the passage of goods - Facilitate customs processes for tourism development - Perform other customs duties under this law or and Regulation.