Import and Export of Afghanistan and goods that are main items for export
Marketing in Afghanistan Market
If you want to trade in the Afghanistan Market, please join in Anbar Asia. Your order will be shown here, so the traders of Afghanistan contact you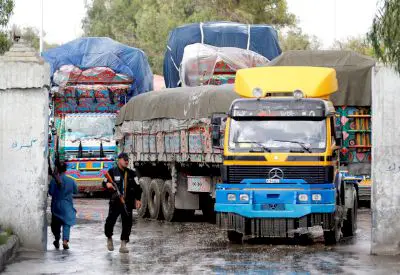 Import of Afghanistan
Afghanistan's imports in 2008 amounted to $ 8.27 billion. Afghanistan's imports are mainly textiles, Petroleum products, machinery, and other capital goods, construction materials, and foodstuffs. Most imports come from Russia, the United States, India, China, Japan, South Korea, Germany, Kenya, Iran, and Pakistan.
Afghanistan's imports are 5.3 billion per year (2008) compared to the rest of the world: 110th. Imports in 2007 amounted to $ 4.5 billion. Percentage of Afghanistan's imports by countries: the United States 29.1%, Pakistan 23.3%, India 7.6%, Russia 4.5%, Germany 4.2% (2010)
Ports of Afghanistan: Sher Khan Bandar, Hairatan, Aqua, Turghandi in northern Afghanistan, Islam Qala and Chabahar with Iran, Spin Boldak, Torkham and Gholamjan with Pakistan, in addition to these ports, other unofficial ports in Afghanistan exists but is not widely used; For example, Badakhshan-Tajikistan, Nuristan-Pakistan bridge, Kunar with Pakistan, Farah and Nimroz with Iran, etc. Recently, the Afghan government wants to build a port on land.
Exporting countries to Afghanistan
Top exporters to Afghanistan are Pakistan, the USA, India, Kazakhstan, and China. Most imports are in Asia, North America, Europe, Africa, South America, and Oceania, respectively. To which countries are Afghan goods mostly exported?
Data from the World Trade Organization (WTO) show that Pakistan and India are two of the main destinations for Afghan goods, with very large differences from other countries.
The two countries each receive 43% and 42% of Afghanistan's exports, respectively. India is followed by Iran (2%), Saudi arabia (2%), Iraq (2%), Turkey (2%), UAE (2%) and China (3%).
From which countries does Afghanistan import more goods?
Although Afghanistan focused more on India and Pakistan in terms of exports, it is very different in terms of imports. Although the two countries still have a significant share in the country's imports, other countries, including Iran, also play a large role here.
According to the statistics of the World Trade Organization (WTO), in 2018, Afghanistan had the highest import of goods from country of Iran, which shows a golden opportunity for our country's traders. The map below shows the most important trading partners of this eastern neighbor in the discussion of importing goods in 2018.
Statistics show that this year Iran (17%), China (15%), Pakistan (14), Kazakhstan (10%), Uzbekistan (7%), Turkmenistan (5%), and India (4%) have played a greater role in supplying Afghanistan with imported goods.
What goods should we export to Afghanistan?
This is a question asked by many novice businessmen and traders. Here we intend to deal with the main groups of goods that are exported from our country to Afghanistan.
It seems that by looking at these statistics as well as comparing the two, we can answer the question of what goods to export to Afghanistan. We have used the latest customs data of the Islamic Republic of Iran as well as the World Trade Organization to obtain information on groups of goods exported to this neighboring country.
In the following list, we have mentioned the best goods for export to Afghanistan, which includes 10 popular products for export in 2018 from Iran to this country:
Oil, fuels, oil products
Iron and steel
Medical equipment, imaging equipment, and a variety of machines
Types of vegetable and animal oils
A variety of edible vegetables and fruits
Types of minerals, gypsum, cement, and mica
Plastic products
Types of machines
Glass and glassware
Home appliances
According to the customs statistics of the Islamic Republic of Iran, most of Iran's exports to Afghanistan through the customs of Mashhad, Arak, Dogharun, Milk Bazaar, Kaveh Special Zone, Milk, Pars Special Economic Zone, Mahirood Bazaar, west of Tehran, Isfahan, Yazd, respectively. And other customs of the country.