The high quality of Iranian goods compared to Pakistani goods, the insecurity of Pakistani roads are the reasons for the increase in Iran's exports to Afghanistan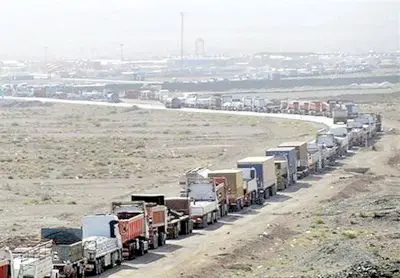 The high quality of Iranian goods compared to Pakistani goods, the insecurity of Pakistani roads are the reasons for the increase in Iran's exports to Afghanistan. Economically, this country in the Middle east is dependent on foreign countries and is one of the poorest countries in the world, with the help of countries Like Iran, its economy has grown.
The average export to Afghanistan ten years ago was one hundred million dollars, but now it has reached more than one billion dollars a year. According to Afghan officials, Iran's exports exceed these figures are estimated. Construction materials, electronics, carpets, foodstuffs, and detergents are among the most important Iranian goods for export to this country. While the Iranian authorities estimate the number of exports a little over one billion dollars.
But some Afghan officials have estimated Iran's exports at about $ 10 billion a year. According to the free market system, exports of Iranian goods to Afghanistan will continue to grow. According to statistics, at the beginning of 1994, there were about 2 billion and 100 million dollars in exports to Afghanistan, and now, Iran's exports to this country are more than two and a half-billion dollars, and it is predicted that in the coming years the amount of exports to this country reach about $ 4 billion.
The countries of the Persian Gulf and the countries that are members of the SAARC organization have potential markets for attracting Afghan exports, but at the same time, to some extent, these countries compete with Afghan products in regional markets. China and India are growing rapidly and their economies are changing rapidly.
The two countries have become very powerful in the field of production and various service sectors, and their actions, including in the field of finance, have a significant impact on the international activities of their Central Asian neighbors. Afghanistan needs to pay close attention to the trade and investment channels that these two countries may offer.
Although the general foreign trade environment is full of fluidity and uncertainty, there are some foreign markets in which Afghanistan can operate sustainably. Afghanistan's exports to European countries currently account for 12 percent of the country's total exports and are exempt from tariffs and quotas under a program called "All Goods, Arms and Ammunition". Other major markets, such as the United States, Chapman, Canada, and China, also have better conditions for exporting Afghan products than products from other exporting countries.
India, both as a member of the World Trade Organization and as a developing country in the South Asian Free Trade Agreement (SFTA), has considered some important and preferential advantages, such as the Customs Tariff Preference Program for Less Developed Countries. And Afghanistan can benefit from this program, but even these elements of stability face limitations, including strict rules on the source document, and doubts about future demand developments, at least in some of these economies.
Recently, land-based trade is of paramount importance for landlocked Afghanistan. Fortunately, Afghanistan connects with neighboring countries and other countries through air corridors and signs agreements such as Chabahar with Iran and India. In 2016, the signing of an agreement with Uzbekistan in late 2017, the Azure Road Agreement with Azerbaijan, Georgia, Turkey, and Turkmenistan, and the opening of the Chabahar port have been very effective steps.
Increasing Afghanistan's exports, including Effective implementation of the above agreements, has been developed. Afghanistan currently exports several commercial shipments from the port of Chabahar to Mumbai, India, and in early 2019, commercial shipments of Marble and fresh fruits were shipped via the Lajurd route to Turkey and exported to Azerbaijan.