Afghanistan has natural gas, oil, coal, marble, gold, copper, chromite, talc, barite, sulfur, lead, zinc, iron ore, salt, precious and semi-precious stones

Notice: Undefined variable: listTitle1 in /home/anbarasi/domains/anbar.asia/anbar/inc/html/desktop/orderform.php on line 14


Notice: Undefined variable: listHeader in /home/anbarasi/domains/anbar.asia/anbar/inc/html/desktop/orderform.php on line 17

Email
Phone
Country
Reg. date
e...2@...com
091...185
United Arab Emirates
2022-11-02
m...i@...com
009...884
Lebanon
2023-01-22
o...r@...com
+96...223
Yemen
2023-02-06
t...y@...com
+96...092
Yemen
2022-11-17
s...4@...com
096...255
Oman
2022-12-26
h...7@...com
002...333
Egypt
2023-02-01
H...e@...com
009...022
Yemen
2023-02-04
z...s@...com
+96...129
Yemen
2022-05-17
x...3@...com
009...818
Yemen
2022-04-08
k...n@...com
009...019
Iraq
2022-09-25
m...k@...com
021...021
Oman
2023-01-24
3...5@...com
050...845
Israel
2022-11-16
A...a@...com
+20...583
Egypt
2022-11-08
a...y@...com
002...023
Egypt
2023-01-19
a...2@...com
733...010
Yemen
2023-01-12
A...m@...com
009...007
Yemen
2022-09-15
r...5@...com
774...993
Yemen
2022-06-03
h...2@...com
009...228
Iraq
2022-05-24
m...h@...com
733...796
Yemen
2022-05-04
a...a@...com
009...150
Yemen
2023-02-03
m...5@...com
009...225
United Arab Emirates
2022-11-03
A...3@...vom
+96...974
Yemen
2023-01-05
k...1@...com
098...906
United Arab Emirates
2022-12-06
s...0@...com
009...654
Afghanistan
2022-10-19
A...3@...com
736...570
Yemen
2022-11-09
...
...
...
...
...
...
...
...
Only site users can see contact details
Please sign up to see complete contacts information
Marketing in Afghanistan Market
If you want to trade in the Afghanistan Market, please join in Anbar Asia. Your order will be shown here, so the traders of Afghanistan contact you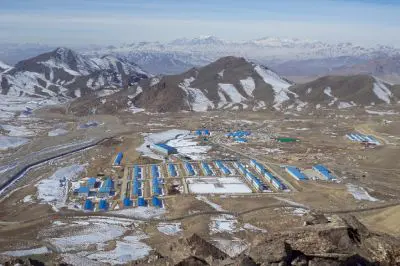 Afghanistan has abundant natural resources including vast reserves of natural gas, oil, coal, marble, gold, copper, chromite, talc, barite, sulfur, lead, zinc, iron ore, salt, precious and semi-precious stones, and many more. In 2006, a US geological survey estimated that Afghanistan had 36 trillion cubic feet of natural gas and 3.6 billion barrels of oil and condensate reserves. According to a 2007 assessment, Afghanistan has a significant amount of undiscovered mineral resources. Geologists also found evidence of abundant deposits of colored stones and precious stones, including emeralds, rubies, sapphires, garnets, azure, composite, spinel, tourmaline, and peridot.
In 2010, US Pentagon officials, along with US geologists, uncovered approximately $ 1 trillion in untapped mineral reserves in Afghanistan. A Pentagon note says Afghanistan could become Saudi Arabia's lithium. Some believe that intact Minerals are worth up to $ 3 trillion.
Another US Geological Survey in September 2011 estimated that household carbonates in Helmand province were estimated to contain 1 million tonnes of trace elements. "This is just another piece of evidence that shows Afghanistan's mining sector has a bright future," said Regina Dubai, head of the Department of Defense's Special Task Force (TFBSO).
Afghanistan signed a Copper deal with China (China Metallurgical Co., Ltd.) in 2008. It is a large project involving $ 2.8 billion in Chinese investment and about $ 400 million in annual revenue for the Afghan government. The Aynak copper mine, located in Logar province, is one of the largest in the world and is expected to provide jobs for 20,000 Afghans. It is estimated to have at least 11 million tons, or $ 33 billion, of copper.
On October 5, 2018, in Washington, DC, Afghan officials signed a 30-year contract with the Center Investment Group and its operating company, the Afghan Gold and Minerals Company, to explore and develop copper mining operations in the Balkhab area of ​​Sar-e-Pul province. And to explore and develop a gold mining operation in Badakhshan province. The copper contract included an investment of $ 56 million and the gold contract $ 22 million.
Experts believe that copper production could start in two to three years and iron ore in five to seven years from 2010. Another recently announced treasure is the Hajigak iron ore mine, located 130 miles west of Kabul, which is believed to hold about 1.8 billion to 2 billion metric tons of the mineral used to make steel. AFISCO, an Indian consortium of seven companies led by the Indian Steel Authority and Goldmines Canada, is expected to jointly invest $ 14.6 billion in the development of the Hajigak iron ore mine. The country has several coal mines but needs to be modernized.