The physical properties of turquoise are valuable for its identification

Notice: Undefined variable: listTitle1 in /home/anbarasi/domains/anbar.asia/anbar/inc/html/desktop/orderform.php on line 14


Notice: Undefined variable: listHeader in /home/anbarasi/domains/anbar.asia/anbar/inc/html/desktop/orderform.php on line 17

Email
Phone
Country
Reg. date
m...m@...com
009...495
Afghanistan
2022-10-04
S...9@...coM
565...201
Saudi Arabia
2023-01-12
d...n@...com
009...250
Iraq
2023-02-07
r...y@...com
010...223
Egypt
2022-12-04
M...t@...com
925...205
Oman
2023-01-11
m...5@...com
770...402
Yemen
2022-10-19
a...1@...com
009...800
United Arab Emirates
2022-11-08
A...3@...vom
+96...974
Yemen
2023-01-05
y...h@...com
077...467
Jordan
2022-08-31
m...h@...com
733...796
Yemen
2022-05-04
m...i@...com
009...884
Lebanon
2023-01-22
s...4@...com
096...255
Oman
2022-12-26
r...5@...com
774...993
Yemen
2022-06-03
n...2@...com
009...200
Yemen
2023-02-03
a...y@...com
002...023
Egypt
2023-01-19
o...r@...com
+96...223
Yemen
2023-02-06
k...n@...com
009...019
Iraq
2022-09-25
e...2@...com
091...185
United Arab Emirates
2022-11-02
a...a@...com
009...150
Yemen
2023-02-03
S...n@...com
009...988
Saudi Arabia
2023-02-07
p...i@...com
+90...431
Turkey
2023-01-09
k...1@...com
098...906
United Arab Emirates
2022-12-06
A...a@...com
+20...583
Egypt
2022-11-08
h...7@...com
002...333
Egypt
2023-02-01
m...y@...com
009...063
Yemen
2022-11-19
...
...
...
...
...
...
...
...
Only site users can see contact details
Please sign up to see complete contacts information
Marketing in %s market of Middle East Turquoise and Gemstones Market
If you want to trade in the Middle East Turquoise and Gemstones Market, please join in Anbar Asia. Your order will be shown here, so the traders of Middle East contact you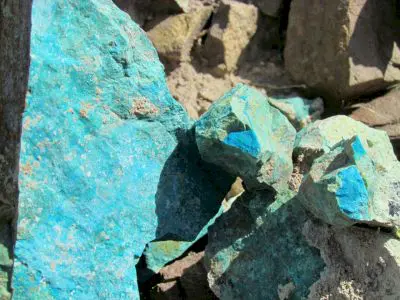 The physical properties of Turquoise are valuable for its identification. They are also valuable information for the care of turquoise jewelry. Important properties are summarized in the accompanying table.
Weathering can significantly alter the physical properties of turquoise. Weathered turquoise might still have a desirable color, but its hardness and durability are reduced. This turquoise cannot be cut into useful cabochons or beads. Weathered turquoise is often crushed and used to make "composite" or "reconstituted" turquoise described in the "Natural Turquoise and Turquoise Treatments" section below.

Turquoise is opaque and has a Mohs scale hardness that varies remarkably. If silicification has not occurred, the turquoise will likely be chalky, porous, and soft. The specific gravity of turquoise is 2. The color of turquoise can vary from deep blue to deep green, with every variation of color in between, because of its chemical composition. Generally, the more copper in the molecule, the bluer the turquoise. Turquoise specimens from various mines have been analyzed to determine their chemical compositions. Turquoise can also change color naturally, usually becoming greener when exposed to moisture. Man, too, can change the color of turquoise artificially by submerging the stone in animal fat. Although turquoise must consist of copper, aluminum, and phosphorus, other elements can replace them (in various percentages), thereby changing the molecular structure. For example, two very rare minerals, chalcosiderite (where iron replaces the aluminum) and faustite (where zinc replaces the aluminum) exist in turquoise environments. However, more frequently, iron and zinc will partially replace the aluminum, leaving turquoise altered only in color, specific gravity, and of course, chemical composition. Most turquoise is concentrated more near the copper-aluminum end of this spectrum than the iron or zinc-aluminum end; therefore, most turquoise is blue or blue-green. A great many variables exist in this stone; it is sill turquoise. A series of chemical tests were conducted on turquoise from 21 different mines in several countries. There were marked differences in the composition of the oxides forming these turquoise samples. These tests, if nothing else, show just how complex a mined turquoise is; turquoise simply does not always follow the accepted generalizations. For example, the tests show that a Persian mine noted for its blue turquoise had the lowest copper and highest iron content. Brown, Blue Gold, The Turquoise Story, Main Street Press, Anaheim, CA, 1975. The International Turquoise Annuals, vol. Allen Penick, "Turquoise, the Mineral that's an Accident. D, The Turquoise, A report to the National Academy of Science, vol. (This reprint includes a foreword and details on Southwestern turquoise mines by Rex Arrowsmith and an excellent reference list. Northrop, Turquoise and Spanish Mines in New Mexico, University of New Mexico, Press, 1975. Snow, Turquoise, reprinted by General Printing and Paper Co.