A small amount of synthetic turquoise was produced by the Gilson Company in the 1980s
Marketing in Middle East Turquoise and Gemstones Market
If you want to trade in the Middle East Turquoise and Gemstones Market, please join in Anbar Asia. Your order will be shown here, so the traders of Middle East contact you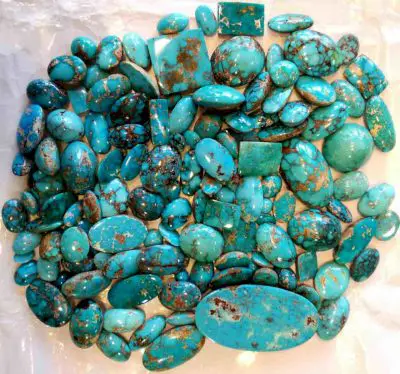 Howlite and magnesite are light gray to white Minerals that often have markings that resemble the spider webbing seen in some turquoise. They can be dyed a Turquoise blue color that makes them look very similar to natural turquoise. These dyed stones fooled many people when they first entered the marketplace and still are mistaken for genuine turquoise by unfamiliar buyers.
Dyed stones have damaged the market for genuine turquoise. They have been purchased with the thought that they were turquoise by many people and have produced uncertainty in the mind of many jewelry buyers. This causes some people to avoid turquoise jewelry.
A small amount of synthetic turquoise was produced by the Gilson Company in the 1980s, and some of their material was used to make jewelry. It was produced in a sky blue color, sometimes with a gray spider webbing. It was a ceramic product with a composition similar to natural turquoise.

Today dyed howlite and magnesite are still used to make mass-produced beads, cabochons, tumbled stones, and other turquoise look-alike items. They are almost ubiquitous in the marketplace. Be cautious if you see turquoise with a wonderfully blue and very uniform color.