Turquoise is rarely found in well-formed crystals
Marketing in Middle East Turquoise and Gemstones Market
If you want to trade in the Middle East Turquoise and Gemstones Market, please join in Anbar Asia. Your order will be shown here, so the traders of Middle East contact you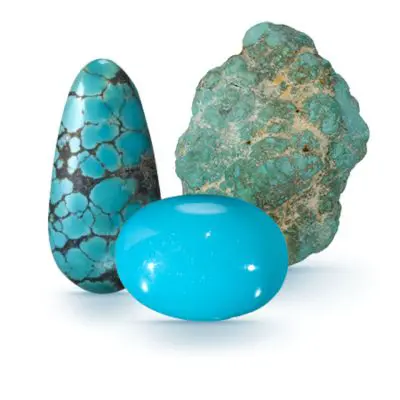 Turquoise is rarely found in well-formed crystals. Instead it is usually an aggregate of microcrystals. When the microcrystals are packed closely together, the Turquoise has a lower porosity, greater durability, and polishes to a higher luster. This luster falls short of being "vitreous" or "glassy." Instead many people describe it as "waxy" or "subvitreous."
Turquoise forms best in an arid climate, and that determines the geography of turquoise sources. Most of the world's turquoise rough is currently produced in the southwestern United States, China, Chile, Egypt, Iran, and Mexico. Turquoise occurs as a fillung in veins or crevices, or in the form of nuggets. The most well known deposits are in the USA, Mexico, Israel, Iran, Afghanistan and China. The most beautiful turquoises, in a splendid light blue, come from deposits in the north of Iran.

In these areas, rainfall infiltrates downward through soil and rock, dissolving small amounts of copper. When this water is later evaporated, the Copper combines with Aluminum and phosphorus to deposit tiny amounts of turquoise on the walls of subsurface fractures.
Turquoise can also replace the rock in contact with these waters. If the replacement is complete, a solid mass of turquoise will be formed. When the replacement is less complete, the host rock will appear as a "matrix" within the turquoise. The matrix can form a "spider web," "patchy" design, or other pattern within the stone.