Turquoise is rarely found in well-formed crystals
Marketing in Middle East Turquoise and Gemstones Market
If you want to trade in the Middle East Turquoise and Gemstones Market, please join in Anbar Asia. Your order will be shown here, so the traders of Middle East contact you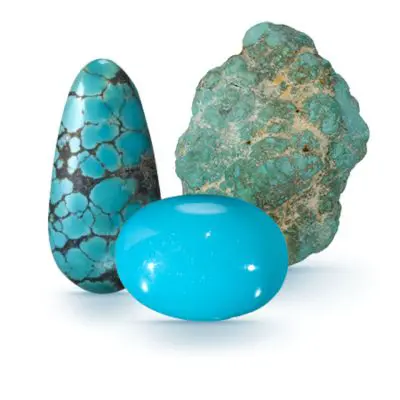 Turquoise is rarely found in well-formed crystals. Instead it is usually an aggregate of microcrystals. When the microcrystals are packed closely together, the Turquoise has a lower porosity, greater durability, and polishes to a higher luster. This luster falls short of being "vitreous" or "glassy." Instead many people describe it as "waxy" or "subvitreous."
Turquoise forms best in an arid climate, and that determines the geography of turquoise sources. Most of the world's turquoise rough is currently produced in the southwestern United States, China, Chile, Egypt, Iran, and Mexico. Turquoise occurs as a fillung in veins or crevices, or in the form of nuggets. The most well known deposits are in the USA, Mexico, Israel, Iran, Afghanistan and China. The most beautiful turquoises, in a splendid light blue, come from deposits in the north of Iran.

In these areas, rainfall infiltrates downward through soil and rock, dissolving small amounts of copper. When this water is later evaporated, the Copper combines with Aluminum and phosphorus to deposit tiny amounts of turquoise on the walls of subsurface fractures.
Turquoise can also replace the rock in contact with these waters. If the replacement is complete, a solid mass of turquoise will be formed. When the replacement is less complete, the host rock will appear as a "matrix" within the turquoise. The matrix can form a "spider web," "patchy" design, or other pattern within the stone.

The oldest evidence for this claim was found in Egypt, where grave furnishings with turquoise inlay were discovered, dating from approximately 3000 B. Meanwhile, it has been discovered that the turquoise certainly can change colour, but that this is not necessarily a sign of impending danger. In earlier times, turquoises were even responsible for the material wellbeing of the wearer. The Persian scholar Al-Qazwini, for example, wrote: 'The hand that wears a turquoise and seals with it will never see poverty. ' Turquoises were often worn on the turban, and often surrounded with pearls, in order to protect their wearer against the 'evil eye'. Indeed it is from that period that the name 'turquoise' originates, meaning 'Turkish'. In South, Central and North America too, the turquoise has always occupied a very special position among gemstones. The Indians of North America, who still produce a good deal of traditional silver jewellery with turquoises today, believe that the sky-blue gemstone opens up a direct connection between the sky and the sea. At all times and over the world, turquoises have been worn as natural protection against the powers of darkness. In modern gemstone therapy, those suffering from depression are recommended to wear a turquoise or a chain with turquoise beads. The turquoise' cheerful colour is said to endow reticent personalities with more confidence. It is also often given as a gift, a stone of friendship, for the turquoise is said to be responsible for faithfulness and constancy in relationships. Turquoise is a copper aluminium phosphate with a hardness of 6, i. In Nature, it occurs in the whole range of hues from sky blue to grey-green, and it is mostly found in places where there is a high concentration of copper in the soil. However, turquoise is only really turquoise in the very best quality; mostly, the colour is paler, or bluish-green or greenish. The blue colour is created by copper, the green by bivalent iron and a certain amount of chrome. These lively, more or less regular patterns are known as 'turquoise matrix'. As a rule, turquoise occurs as a fillung in veins or crevices, or in the form of nuggets. The most well known deposits are in the USA, Mexico, Israel, Iran, Afghanistan and China. The most beautiful turquoises, in a splendid light blue, come from deposits in the north of Iran. Turquoise is rarely faceted. Being relatively soft, turquoises are sensitive. In the trade, there are a large number of reasonably priced turquoises sealed with synthetic resin. And there is also such a thing as a 'reconstructed turquoise', which is made from pulverised turquoise. Because of their sensitivity, turquoises are almost always subjected to treatment of one kind or another, though this may take any of a number of different forms. For this reason, turquoises which have a good natural colour and are simply hardened with colourless wax or synthetic resin have a much higher value than stones whose colour has been 'improved'. So it is more advisable to purchase valuable turquoise jewellery at a jeweller's. The best quality turquoises are of a pure, radiant sky blue, a colour which is highly esteemed with or without its fine, regular matrix. Turquoise should be protected from cosmetics, heat and bright light. The colour of the turquoise makes us feel happy and cheerful, for in it the light blue of the sky and the stimulating green of the sea are combined. Indeed it is such an inimitable colour that we have coined a term specifically for it in our languages: turquoise. Anyone choosing a turquoise is sure to enjoy a piece of Heaven . Turquoise bracelet photo by Chip Clark, courtesy of The Smithsonian Institution Geo Gallery.