The turquoise group consists of five triclinic minerals
Marketing in Middle East Turquoise and Gemstones Market
If you want to trade in the Middle East Turquoise and Gemstones Market, please join in Anbar Asia. Your order will be shown here, so the traders of Middle East contact you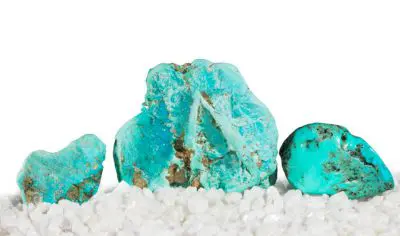 The Turquoise group consists of five triclinic minerals. These Minerals are very similar in chemical composition, crystal structure, physical properties and often in appearance. Members of the group are: turquoise, aheylite, chalcosiderite, faustite, and planerite. Their compositions are listed in the accompanying table.

Notice that the members of the turquoise group have very similar chemical compositions. In these minerals iron often substitutes for aluminum, and Copper often substitutes for Zinc or iron. Because they are so similar and have ranges of composition, these minerals are often misidentified. As a result, some material sold as turquoise is actually another mineral member of the turquoise group.

Faustite is a massive, bright green, zinc-rich member of the Turquoise group that is mined near Neynschabour, Iran. It is a triclinic-pinacoidal apple-green mineral containing aluminum, copper, hydrogen, oxygen, phosphorus, and zinc. George Tobias Faust, is a member of the triclinic turquoise group of hydrous phosphates with the following chemical composition: ZnAl6(PO4)4(OH)8·4H2O. It is the same structure as Turquoise but the copper element has been replaced by zinc. Faustite is the zinc-rich analogue of turquoise having almost four times as much zinc than copper in its crystal structure. 5 on the Mohs scale of mineral hardness and aside from having a slightly lower hardness, it may be difficult to distinguish it from turquoise in hand specimens. Faustite has a blue-green to apple green color in polished cabochons and may be presented as a turquoise imitation, and it may also be treated with stabilizers for jewelry making. Occurrence: In argillized shales associated with copper mineralization (Copper King mine, Nevada, USA). Association: Montmorillonite, apatite, chrysocolla, azurite, malachite, cuprite, kaolinite, quartz, alunite (Copper King mine, Nevada, USA).