Marble can be mined in various dimensions. The stone has its own unique features and in the following you are familiar to the
Marketing in Middle East Marble and Natural Stones Market
If you want to trade in the Middle East Marble and Natural Stones Market, please join in Anbar Asia. Your order will be shown here, so the traders of Middle East contact you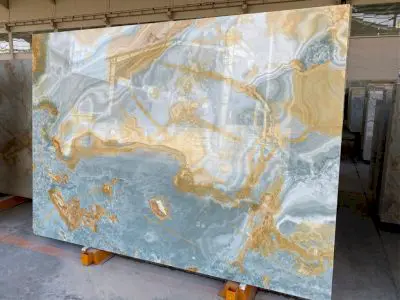 The original Marble is mineral calcite (CaCO3). Of course, in addition to calcite, there are other Minerals in the structure of this stone. These materials include:
Clay
Mikas
Quartz
Pyrite
Iron oxides
Graphite

Marble can be mined in various dimensions. The stone has its own unique features and in the following you are familiar to them.
Marble is light color. More purity limestone in the rock caused more white it is. Impurities such as clay, iron oxides or tarry materials makes the color of the background or streaks of blue, gray, pink, yellow or black in this stone . One of the interesting facts about marble is high purity applications that are in various industries. We will introduce these applications in the next section.
Checking the Hardness of Marble
There calcite in marble makes it difficult to it to be able to cut well. It makes the use of marble in the build artifacts such as statues and have a great application. This feature, along with increased transparency of the stone so beautifully realized structures are not using this stone.

Abrasion-Taking and Polished Surface
Abrasion-taking of marble leads transforming it into one of the precious and valuable stones of the building. The stone is then polished and attractive surface gloss and installed as a facade, wall coverings, flooring and unique parades to the building.

Resistance to Environmental Conditions
Marble can be resistant to most rock against the environmental conditions such as humidity, heat and cold. The rock also has good resistance against rain and acidic rain. Stone structure is in a way that is rarely infected, and keep its beauty for a long time.
Other features marble are as follows:
Beauty
Usability and design features
Modern and classic interior
Heat insulation and energy conservation
Cool and do not absorb heat
Anti-allergy