Oman has two parts. A small part of Oman is located in the southern part of the Strait of Hormuz, which is called Musandam
Marketing in Oman Market
If you want to trade in the Oman Market, please join in Anbar Asia. Your order will be shown here, so the traders of Oman contact you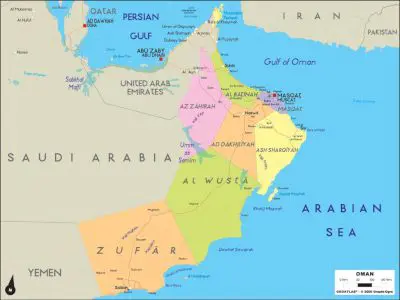 This part is separated from the mainland. The eclipse is now called Madha, which is surrounded by the United Arab Emirates. Oman's current birthplace has been called by various names throughout history and has undergone changes. In some texts, Omana and Oman are also named. Oman is a non-Arabic word, but its most prominent old letters were Megan and its alterations were Majan.
In ancient times, Majan was the name of a province in southern Iran, which was later called Makran. The name Makran is also used for the region of present-day Oman, which has had a lot to do with the shipbuilding industry and Copper mines or Nahas in the Sumerian language.
Oman is known as the Sultanate of Oman because it is in the best position and is one of the kingdoms of the Middle East and is located in the east of the Arabian Peninsula. Muscat, the capital of this beautiful and very desirable Arab country, which attracts many tourists. It is good to know that Oman reaches the Arabian Sea from the east and the Oman Sea from the north, and it borders Yemen in the south and the United arab emirates in the east. It is good to know that this country has a sea border with Iran. Travel to Oman to different cities and enjoy the beauty.
The capital of Oman
Muscat is the largest city and capital of Oman. Iranians know the city of Muscat because of its famous and delicious halva, Muscati. Usually, Oman travel tours are held to its two tourist cities, Muscat and Salalah. Muscat, the capital of Oman, is located in Oman. Muscat is known as the largest provincial city of the same name, Muscat. The name of this city in Arabic means "place of fall" but the reason for naming it is different; its language is Arabic and currency is Omani Rials.
In general, the tourist attractions in Muscat tour can be divided into natural attractions and historical places. So a trip to Muscat Oman can be a good option for adventurers and nature lovers. Oman sightseeing and tourist place can be named as follows:
Mirani Castle:
Mirani Castle is the first large castle in Muscat, built during the Portuguese era to control the Gulf of Oman.
Oman Diving Club:
This center and the maritime club of Bandar Roza are one of the most complete and modern diving clubs in the world, which in addition to training professional sea diving, diving tours and underwater swimming. Muscat is a coastal city with the Oman Sea on one side and the Hijr and Akhdar mountain ranges on the other. The most important tourist beaches in Muscat and Oman are Al-Bustan Beach, Tantab Beach, Al-Jassa Beach, which offer suitable and acceptable facilities to tourists.