Many Factors Affect the Price of Silver In West Asian Markets
Marketing in Middle East Silver and Metals Market
If you want to trade in the Middle East Silver and Metals Market, please join in Anbar Asia. Your order will be shown here, so the traders of Middle East contact you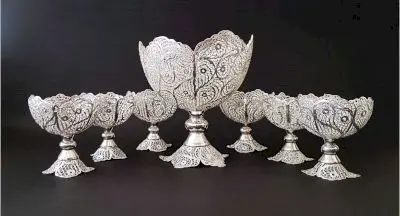 Almost all of the Gold mined in the world is either donated to gold bullion investors every year or used in jewelry. Gold jewelry is quasi-investment in nature and is used as a kind of investment and a kind of savings in many cultures and countries. Less than 10% of the annual consumption of gold is allocated to non-jewelry products.
What are the attractions of the Silver futures market?
Silver is a relatively unique commodity; because this precious metal is traded both as a safe commodity in the market and as a consumer product in industry in a wide range (electronics, solar panels, laboratories, etc.). Silver is very similar to gold because it is a precious commodity. However, silver has more of an industrial base than gold.
In contrast, silver is mostly used in the manufacture of products that have nothing to do with other designs of silver as an investment product. Although silver is also used as a kind of savings, these purchases make up a very small part of the total annual demand. Less than one-third of all silver demand is for investment products and jewelry.
Thus, the price of silver is determined by a combination of more diverse factors than the price of gold, which is mainly influenced by industrial demand. Silver is one of the most widely used commodities due to its unique physical properties (best conductor of electricity and heat), so industrial demand and its changes must be considered when predicting the price of silver.
Silver as a safe investment commodity, Silver as jewelry and decorative utensils
Silver as a consumer good in the industry is very important.