Aluminum Ingots, billets, blooms, and slabs are four products in different dimensions and shape of their cross-section

Notice: Undefined variable: listTitle1 in /home/anbarasi/domains/anbar.asia/anbar/inc/html/desktop/orderform.php on line 14


Notice: Undefined variable: listHeader in /home/anbarasi/domains/anbar.asia/anbar/inc/html/desktop/orderform.php on line 17

Email
Phone
Country
Reg. date
A...m@...com
009...007
Yemen
2022-09-15
M...t@...com
925...205
Oman
2023-01-11
y...h@...com
077...467
Jordan
2022-08-31
m...y@...com
009...063
Yemen
2022-11-19
3...5@...com
050...845
Israel
2022-11-16
o...r@...com
+96...223
Yemen
2023-02-06
r...5@...com
774...993
Yemen
2022-06-03
S...n@...com
009...988
Saudi Arabia
2023-02-07
m...5@...com
009...225
United Arab Emirates
2022-11-03
t...t@...com
+92...723
Pakistan
2022-08-23
m...h@...com
733...796
Yemen
2022-05-04
x...3@...com
009...818
Yemen
2022-04-08
t...y@...com
+96...092
Yemen
2022-11-17
f...c@...com
009...233
Lebanon
2022-09-19
z...s@...com
+96...129
Yemen
2022-05-17
A...3@...vom
+96...974
Yemen
2023-01-05
a...1@...com
009...800
United Arab Emirates
2022-11-08
M...i@...com
009...083
Turkey
2023-01-13
g...6@...com
009...733
Turkey
2022-11-24
A...3@...com
736...570
Yemen
2022-11-09
p...i@...com
+90...431
Turkey
2023-01-09
s...6@...com
+90...764
Turkey
2023-01-22
m...5@...com
770...402
Yemen
2022-10-19
A...a@...com
+20...583
Egypt
2022-11-08
b...d@...com
774...204
Yemen
2022-11-01
...
...
...
...
...
...
...
...
Only site users can see contact details
Please sign up to see complete contacts information
Marketing in %s market of Middle East Aluminum and Metals Market
If you want to trade in the Middle East Aluminum and Metals Market, please join in Anbar Asia. Your order will be shown here, so the traders of Middle East contact you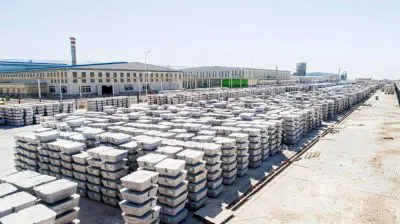 What is an ingot?
The length of this product is less than 2 meters and its dimensions are optimized for transporting Steel and storing it. Its transverse cross-sectional shape is trapezoidal.
What is a billet?
unlike ingots, is long and its cross-sectional area is a circle or square with a width of less than 15 cm (or a cross-sectional area of fewer than 230 cm2). The billet is obtained by direct casting, extrusion (extrusion), or by rolling ingots. Billets are mostly used to produce rebars and wires.
What is Bloom?
Bloom: If the width of the billet is more than 15 cm (or the cross-section is more than 230 cm2), it is called bloom, and for this reason, usually these two products are in one category (Bloom and Billet). Bloom is used to making rails, beams, cans, studs, shields, and so on.
What is a slab?
Slab cross-section, unlike bloom and billet, is not square but rectangular (usually 230 mm thick, 1.25 m wide, and 12 mm long). Slabs are used to make steel sheets, plates, and so on.
Note: Today, the technologies used in manufacturing the steel products in the later stages of obtaining molten steel, i.e. casting and rolling, are more or less the same. But to obtain molten or crude steel, various technologies can be used, including blast furnace (BF), arc furnace (EAF), and induction furnace (IMF) methods. Although most of the crude steel production in the world is produced by the blast furnace method, for various reasons, the use of the electric furnace method, especially in Iran, is more justifiable.