Aluminum Ingots are used in suitable rectangular shapes for further processing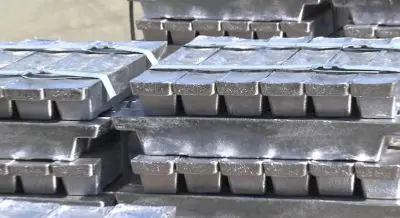 The monetary value of Aluminum ingots is affected by some issues, which are discussed below:
Size and dimensions of ingot construction and design
The type of alloy used in the ingot.
The thickness that is considered in the production stages.
Final weight
Aluminum prices in the Metals market
Exchange rates in the global market
Aluminum alloys
Aluminum alloys are alloys with metallic properties and contain 90-96% aluminum and one or more other metals that will improve the properties of aluminum. In addition to the main alloying elements, these alloys also contain several minor alloying elements that have a great impact on the final properties of the alloy.
Alloy elements
Although many metals form alloys with aluminum, few of these elements have good solubility in aluminum for being the main alloying elements, with only zinc, magnesium, copper, and silicon being highly soluble.
What is an aluminum ingot?
One-piece ingots are usually made of metals that are made of almost pure materials. Ingots are used in suitable rectangular shapes for further processing. In steelmaking, the first step among semi-finished casting products is ingots.
Types of aluminum ingots
These types of ingots generally include the following:
50-pound bullion
This type of aluminum ingot is made of aluminum alloys, which is used in the automotive industry as well as in manufacturing cast parts.
1000-pound bullion
The purity of this type of ingot is 99.85%, so it is very pure. 1000 1,000 ingots are used to make alloys, parts, and sanitary ware.
Aluminum Slabs
Slab ingots, which are usually produced in sizes of 300 * 1060 and 270 *1060 square millimeters, are used to produce various types of coils, belts, sheets, and the like.
T-bar Ingots
T-bar ingots are made of pure E.C. alloy and are used in the manufacture of home appliances, cables, and the like. T-bar is generally used to produce electrical conductors.
Billet Ingots
This ingot is mostly used in the extrusion industry and can be produced in different diameters that meet international AA standards.