Chlorine is a greenish-yellow gas and one of the most widely used halogens, its most important properties are high oxidizing power
Marketing in Middle East Chlorine and Chemicals Market
If you want to trade in the Middle East Chlorine and Chemicals Market, please join in Anbar Asia. Your order will be shown here, so the traders of Middle East contact you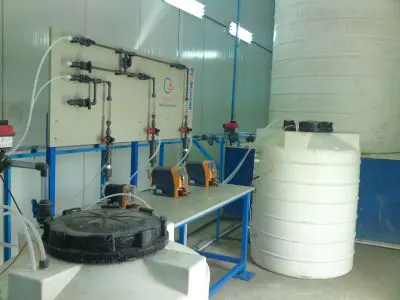 Chlorine, which is a greenish-yellow gas, is one of the most widely used halogens in Group IV of the table of chemical elements, known as CL and atomic number 17.
Chlorine is highly volatile and its most important properties are high oxidizing power and ability to eliminate bacteria, fungi and contaminant particles in water and sewage.
Pure Chlorine is a green gas which is used not only for bleaching and disinfection applications, but also as an important part of organic material in industry and the production of Chemicals and plastics.
Chlorine is halogen and is in group IV in the periodic table. Chlorine gas is greenish-yellow, two and a half times heavier than air, has a very bad and suffocating odor and is very toxic.
This element is an oxidizing, bleaching and disinfecting agent. Chlorine, as part of table salts and other compounds, is abundant in nature and necessarily in most organisms.
Chlorine is toxic and dangerous, and safety precautions must be taken when using it. In general, today, this high-consumption material has become one of the most important and best tools used by humans that can be used everywhere.
Scientists have discovered the important properties of chlorine and chlorinated products as a result of decades of research. They found that chlorine played an important role in the production of safe drinking water, the production of medicines, germicides, and the manufacture of sanitary ware, other chemicals such as tear gas, and fire extinguishers.