Chlorine is produced by electrolysis of brine containing sodium chloride
Marketing in Middle East Chlorine and Chemicals Market
If you want to trade in the Middle East Chlorine and Chemicals Market, please join in Anbar Asia. Your order will be shown here, so the traders of Middle East contact you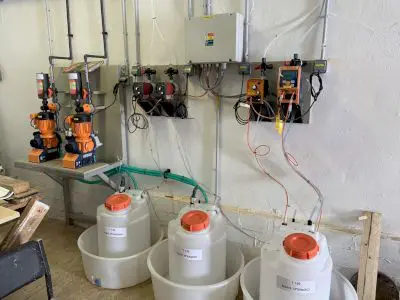 Chlorine is produced by electrolysis of brine containing sodium chloride. This element is found in nature only in combination with other elements, especially sodium in the form of table salt (NaCl), as well as in carnallite and sylvite.
In order to prepare chlorine, according to the production method, a solution of brine and direct electricity are required. Arvand Petrochemical in Iran is the largest producer of Chlorine in the Middle East, which in addition to meeting the needs of food, health and pharmaceutical industries, exports some of its products to European, African, South American and Asian countries.
Liquid chlorine is produced by reacting chlorine gas with caustic soda solution. The production process is such that caustic soda is poured into the storage tank and chlorine gas is introduced from the bottom. Chlorine gas is highly combinable with caustic soda, which causes chlorine gas to reach the top of the tank.
In this case, the chlorine gas output is absorbed from the surface, the lower the gas output, the better the reaction.
Tanks should be made of PVC because chlorine gas combines with any metal in the presence of moisture which leads to corrosion of the metal.