Ammonia is one of the largest synthetic products first obtained by Priestley in 1773 from heating chlorine and ammonium with lime

Notice: Undefined variable: listTitle1 in /home/anbarasi/domains/anbar.asia/anbar/inc/html/desktop/orderform.php on line 14


Notice: Undefined variable: listHeader in /home/anbarasi/domains/anbar.asia/anbar/inc/html/desktop/orderform.php on line 17

Email
Phone
Country
Reg. date
n...2@...com
009...200
Yemen
2023-02-03
p...i@...com
+90...431
Turkey
2023-01-09
m...i@...com
009...884
Lebanon
2023-01-22
k...n@...com
009...019
Iraq
2022-09-25
z...s@...com
+96...129
Yemen
2022-05-17
m...m@...com
009...495
Afghanistan
2022-10-04
h...7@...com
002...333
Egypt
2023-02-01
x...3@...com
009...818
Yemen
2022-04-08
m...5@...com
009...225
United Arab Emirates
2022-11-03
s...6@...com
+90...764
Turkey
2023-01-22
b...d@...com
774...204
Yemen
2022-11-01
S...n@...com
009...988
Saudi Arabia
2023-02-07
r...y@...com
010...223
Egypt
2022-12-04
o...r@...com
+96...223
Yemen
2023-02-06
a...y@...com
002...023
Egypt
2023-01-19
f...c@...com
009...233
Lebanon
2022-09-19
A...a@...com
+20...583
Egypt
2022-11-08
r...5@...com
774...993
Yemen
2022-06-03
t...y@...com
+96...092
Yemen
2022-11-17
t...t@...com
+92...723
Pakistan
2022-08-23
y...h@...com
077...467
Jordan
2022-08-31
A...m@...com
009...007
Yemen
2022-09-15
m...5@...com
770...402
Yemen
2022-10-19
k...1@...com
098...906
United Arab Emirates
2022-12-06
H...e@...com
009...022
Yemen
2023-02-04
...
...
...
...
...
...
...
...
Only site users can see contact details
Please sign up to see complete contacts information
Marketing in %s market of Middle East Ammonia and Chemicals Market
If you want to trade in the Middle East Ammonia and Chemicals Market, please join in Anbar Asia. Your order will be shown here, so the traders of Middle East contact you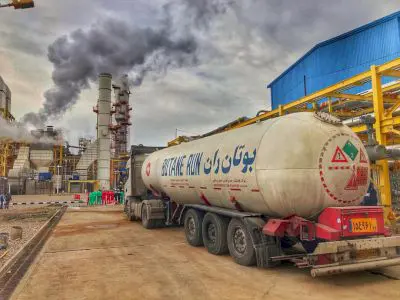 The ancient Romans used ammonium chloride as money and deposits. They collected ammonium ore from a place called the Temple of Jupiter, or New Libya. But Ammonia in the form of ammonia salt was first known by Jabir Ibn Hayyan in the 8th century.
Ammonia is one of the largest synthetic products first obtained by Priestley in 1773 from heating Chlorine and ammonium with lime. Later, in 1784, Bertolt discovered further research into the chemical formula and properties of ammonia. There are several methods for producing ammonia. In China, for example, ammonia is produced from coal, but it can be said that in most countries of the world, natural gas is considered as feed for ammonia units.
In 1900, Fritz Hobber investigated the ammonia balance at atmospheric pressure and obtained very low concentrations of ammonia (0.012%) at about 1000 ° C. Apart from Haber, Ostward and Nernst also studied the problems of ammonia synthesis separately and more closely; But a number of mistakes occurred during the research process. Ostward, for example, rejected the use of iron as a previously recorded ammonia synthesis catalyst due to an error in the experiment. Haber measurements at different atmospheric pressures indicated that higher pressures should be applied.

The Romans called the ammonium chloride deposits they collected from near the Temple of Amun (Greek Ἄμμων Ammon) in ancient Libya 'sal ammoniacus' (salt of Amun) because of proximity to the nearby temple. Salts of ammonia have been known from very early times; thus the term Hammoniacus sal appears in the writings of Pliny, although it is not known whether the term is identical with the more modern sal-ammoniac (ammonium chloride). In the form of sal-ammoniac (nushadir) ammonia was important to the Muslim alchemists as early as the 8th century, first mentioned by the Arab chemist Jābir ibn Hayyān, and to the European alchemists since the 13th century, being mentioned by Albertus Magnus. In the 15th century, Basilius Valentinus showed that ammonia could be obtained by the action of alkalis on sal-ammoniac. At a later period, when sal-ammoniac was obtained by distilling the hooves and horns of oxen and neutralizing the resulting carbonate with hydrochloric acid, the name "spirit of hartshorn" was applied to ammonia. Gaseous ammonia was first isolated by Joseph Priestley in 1774 and was termed by him "alkaline air". The Haber-Bosch process to produce ammonia from the nitrogen in the air was developed by Fritz Haber and Carl Bosch in 1909 and patented in 1910. The ammonia was used to produce explosives to sustain their war effort. Prior to the availability of cheap natural gas, hydrogen as a precursor to ammonia production was produced via the electrolysis of water or using the chloralkali process.