Syria is located in West Asia, north of the Arabian Peninsula in the Middle East‎
Marketing in Syria Market
If you want to trade in the Syria Market, please join in Anbar Asia. Your order will be shown here, so the traders of Syria contact you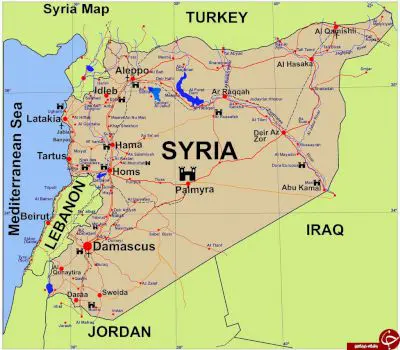 It is located in West Asia, north of the Arabian Peninsula in the Middle East, and east of the Mediterranean Sea. It is bordered by Turkey to the north, Lebanon and Palestine to the west, Iraq to the east, and Jordan to the south. Syria's geography includes mountain ranges in the west and steppes in the interior. The Syrian desert is located in the east and the Druze mountain range in the south of the country. The Euphrates River has divided the Syrian desert. The reservoir of the dam, which was built on the Euphrates in 1973, is called Lake Assad and is currently the largest lake in Syria. Syria's highest point is Mount Jabal al-Sheikh, 2,814 meters (9,232 feet) on the Lebanese border. Semi-arid steppe zones, nestled between the wet shores of the Mediterranean on one side and the desert on the other, cover about three-quarters of the country. These steppe zones host hot, dry winds blowing through the desert.
Syria is divided into fourteen provinces. Each province is divided into 60 counties (in Arabic: region), and each county into smaller sections (in Arabic: district). Damascus is the capital of Syria and the second-largest city in the country. The city of Aleppo in the north is the largest in Syria. The cities of Latakia and Tartus are the largest and main ports on the shores of the Mediterranean Sea.
The Syrian economy is known as a state economy. The lack of strong financial resources and infrastructure in the private sector, as well as government interference in the economy, has put the country in a difficult economic situation.
Syria's diverse nature, with its mountains, valleys, deserts, rivers, and access to open waters, has had a tremendous impact on the country's industries and agriculture. The Syrian economy is based on the three pillars of industry, agriculture, and trade, and we must not forget the oil and gas industry, as well as the tourism industry. The Syrian economy faced many crises in the 1990s that could overshadow the country's future, and at a glance, they can be summarized in three main sections.
Oil is a perishable stock and due to its high price fluctuations and the trend of declining underground reserves, it cannot be considered as the main source of income.
The average annual population growth in Syria is 3.3%, which is above the global average. This trend has increased the labor force and forced the country to make huge investments in education, health, and the social security system.
Trade opening, which is due to Syria being in the Free Trade Zone of the Arab countries or due to cooperation with the European Union or joining the World Trade Organization, will have a great impact on Syrian industry because many Syrian factories and industrial centers Government support will not be able to withstand this opening.