Gemstones have different sources and pressure and temperature are two factors that are involved in their formation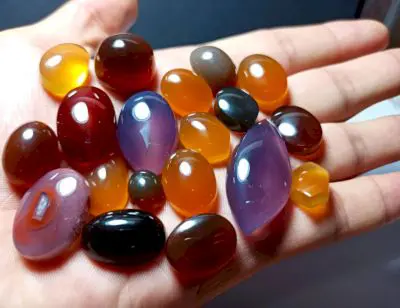 Gemstones have different sources and pressure and temperature are two factors that are involved in their formation. In general, the materials and Minerals that make up the Gemstones are including:
Magmatic
Metamorphic
Sediment
Organic

So far, about 200 areas including the gemstones have been identified in Iran. Therefore, the development of milling cutters can be job opportunities in the field of exploration, extraction, production, trade, and export. Most of the gemstones identified in Iran are agate, turquoise, crystal, garnet, and jasper. Many of these Gemstone mines are located in Khorasan, Isfahan, East Azerbaijan, Hamedan, and Zanjan.

Although the trade in gemstones is one of the most profitable types of trade, unfortunately, there is no accurate and organized scientific study center in the distribution and exploration of gemstones in Iran.
Iran plays a small role in the gemstone trade. The added value of processed Stones will be about 700 % of the ore, but the industry of carving and cutting gemstones in Iran is not developed. The value of exports of gold, jewels, gemstones in 2004 (compared to the year 2003) is approximately 1.86 percent.
Exports of gold, jewels, and gemstones in 2004 (compared to the year 2003) is reached to the 5.81 percent and reduced to 5.800 kg.
At present, Iran's main exports are handicrafts, carpets, turquoise, and gemstones. Recently, the Iranian Handicrafts Organization has established training workshops in various places such as East Azerbaijan, Ardabil, Markazi, Tehran, West Azerbaijan, Khorasan, Fars, etc. to improve the gemstone cutting industry.
Of course, centers and schools related to gemstones must equip themselves with the latest tools and technology in the world in terms of cutting and carving gemstones, to be able to keep pace with international standards in this field. Iran is located in the world Diamond line, so it should take steps in the development and production of precious and semi-gemstones as much as possible to develop and improve this industry. Iran is dependent on oil export earnings, while precious and semi-gemstones will make the economy more profitable.
Agate is found in abundance in Iran and so far more than fifteen cases of Agate minerals that six cases are economically exploited. Agate deposits in Iran have been found in modern Oligocene volcanic Rocks up to the present day, all of which have precipitated silicon-rich acidic solutions within the cavities.
Thus, amygdala to geodesic shapes is formed on the surface of the earth, which is composed of layers with different colors of agate. Some of them are filled with layers of agate while others have holes in their center. The presence of layering in these structures indicates the periodicity of sedimentation of agate layers, which can be attributed to the alternating periods of activity of hydrothermal solutions.

Mining of  Gem  and semi gem stones has been considered by Iranians from ancient times. Since sites of chips stone use up to a few kilos of rock per year, due to the limited use of these minerals in the consumer market, mainly the production and collection of raw rocks has been by Wilderness and  handpicking. In some cases, including mine of the turquoise Neyshabur, extraction is carried out inform underground. A part of the industry's needs are also supplied from foreign sources, including Azure, American turquoise, colorful agate and …. It should be noted that Iranian industrialists use 90% of the scraped rocks of agate and turquoise as a ring. In addition to natural stones, American turquoise, domestic and foreign painted agate, synthetic ruby ​​and the like are also used in this Interiordustry. After India and Brazil, Iran is the third producer of decorative stones, but Iran's Firoza [the Persian name of the gem] is known around the world as turquoise [derived from an Old French word for "Turkish"] only because it is traded in Turkey. Iran is sitting pretty when it comes to decorative and exterior façade stones; it has about four billion tons of decorative stones with an annual production of over 13. Decorative stones are found in many Iranian provinces, among them East and West Azerbaijan, Isfahan, Khorasan, Fars, Central, Hamadan, Sistan and Baluchestan, and Zanjan. Processed turquoise can earn Iran higher added value. Investment is needed to encourage more turquoise exports and gain more foreign revenues as a result. Isfahan: In previous studies, the province has 3 minerals index from turquoise, Agat Khor and Garnet Jandagh. But with studies that are still continuous at the provincial level, have been identified four minerals of the types Agat, Garnet and Chrysocula at 470,000 Kilograms and Fluorite with 120,000 tons ,Cerussite in Nakhlak Mine, Anarak District of Esfahan Province , Rosasite and Aurichalcite in Chah Kuh of Esfahan Province. Ardabil: The number of two index minerals from Agatha type has been identified in this province, but due to the expansion of igneous rocks at the province level, the probability of other reserves of Gem  and semi gem stones is unexpected. Khorasan Razavi: In the reports of the Mining and Industries Organization, , numerous exploration licenses of turquoise and Agat and, have been mentioned the exploitation licenses for turquoise and ruby and Sapphire. In recent studies, has been identified the number nineteen mineral index of different types brille (acoumarin), Sapphire, ruby, Rutile, Orthosis, Ghoochani turquoise (Chrysoculla), Agat, Jasper, Agat Soleimani, Opal, Garnet,Quartz, Quartz Rose, Andoalosite, Ilmenite, Aragonite and Poly Gurskite, with a reserve of 1,146 , 250 kilograms and Fluorite with 326,000 tons . Southern Khorasan: Three minerals Index were introduced from Agat in the province. Māzandarān: Known fluorite resources of Iran number more than 30 with reserves estimated at 500,000 tons with base reserve of around 1 million tons. The most important fluorite reserves of Iran are situated in the following provinces Included Māzandarān, with 83,000 tons. Kurdistan: Known fluorite resources of Iran number more than 30 with reserves estimated at 500,000 tons with base reserve of around 1 million tons. The most important fluorite reserves of Iran are situated in the following provinces Included with 5,000 tons. How to make gemstones and semi gemstones? . The water near the surface of the earth combines with minerals and solves them. If the water is mixed with silica or sand-rich stones, formed silica-rich minerals. minerals to based of Silica: amethysts (quartz), agat and opal formation, which ofcourse the opal is a non-crystalline and amorphous material. If the water is mixed with copper-rich rocks, will form copper-rich minerals. Because they can not link with most of the minerals that crystallize. As a result, the last part is not crystallized, it is rich in water, and is rich in other materials that are not common in minerals. Among the rocks' maturation and their metamorphism, which are affected considerable heat and pressure, the minerals are separated and new groups of minerals begin to linked and crystallize, which ultimately forms these minerals New ones are called metamorphic minerals. When they face an open space, such as fracture, fill these fracture  and veins, and eventually crystallize gemstones. Diamonds were formed at the maximum temperature and pressure in many millions years ago at a greater depth inside the crust (at a depth of one hundred to two hundred kilometers below the Earth's surface). After the rocks is brought to the surface, gems may be separated from the rocks by weathering (some minerals are dissolved, some become to clay minerals, and some remain unchanged). Gemstones are often minerals that resistant from weathering and chemicals minerals. Gemstones often have a high density in comparison to other minerals, so they are easily sink in areas of the river bed. Resistant and valuable elements are focused like gold by this process. Aluminum is present in other gemstones, such as topaz, garnet, and chrysoberyl. Of the many other aluminum minerals, alunite and cryolite have some commercial importance. Small deposits of native metal have been found, but most antimony occurs in the form of more than 100 different minerals. ) A major portion of terrestrial argon has been produced, since the Earth's formation, in potassium-containing minerals by decay of the rare, naturally radioactive isotope potassium-40. Most, however, is combined in more than 150 different minerals, as sulfides, arsenides, sulfoarsenides, and arsenites. Mispickel, or arsenopyrite, FeAsS, is among the most common of arsenic-bearing minerals; others are realgar, As4S4; orpiment, As2S3; loellingite, FeAs2; and enargite, Cu3AsS4. Most commercial arsenic is recovered as a by-product of the smelting of copper, lead, cobalt, and gold ores. Pasargad Neshan Pars mineral producing and supplying company is of companies that activity in the field of exploration , extraction of mines and commercial in Iran.