Plaster is used as a rich source of calcium for the body And There are different types of dental plaster depending on the type of application
Marketing in Middle East Plaster and Construction Materials Market
If you want to trade in the Middle East Plaster and Construction Materials Market, please join in Anbar Asia. Your order will be shown here, so the traders of Middle East contact you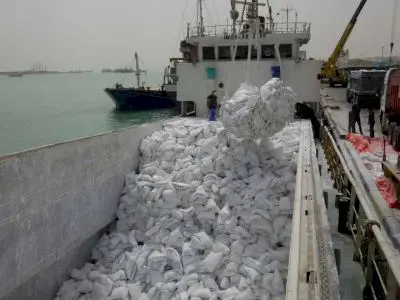 In food industry:
Plaster is used as a rich source of calcium for the body, as a filter helper in production of sugar, in beverage production to increase purity and regulate water hardness.
In porcelain and ceramic:
plaster also used in porcelain and ceramic industries to make a variety of molds.
In the glass industry:
In the glass industry, gypsum is used to regulate the melt viscosity and also as a Substitute for sodium sulfate.

In the casting industry:
Refractory Plaster is used as a casting mold
plaster in mining:
Plaster is useful for blocking small mining tunnels.
plaster in medicine :
Another use of plaster will be in the healthcare industry and the production of dental plaster. There are different types of dental plaster depending on the type of application. But in any case, dental plaster must be made of a completely "pure" ore, because having some impurities after production and during application process is harmful to the mouth.
Other uses of plaster in medicine are:
production of medical bandages, dental molds, bone fracture plasters, preparation of oral tablets and so on.
In the pharmaceutical industry:
In the pharmaceutical industry, gypsum is used as fillers and calcium-containing materials to make a variety of tablets.
In health products and massage service centers:
Gypsum produce heat and open skin pores
In the paper and paint industry:
Gypsum is used for paper transparency and also as a filler
plaster in the petrochemical industry:
in petrochemical industry plaster act as a dryer
The use of plaster in the leather industry:
The use of plaster in the procurement of chemicals
Chemical fertilizer industry:
Application of gypsum in leather industry:
As a horn separator from the leather:
In the preparation of chemicals:
Such as sulfuric acid, calcium oxide, ammonium sulfate, double sodium sulfate and so on.
Chemical fertilizer production industry:
Sulfur fertilizer is one of the fertilizers commonly used in agriculture to improve the soil. Due to its chemical properties, plaster is one of the raw materials used in the production of some types of chemical fertilizers.
Sulfur deficiency is observed in soils that are highly exposed to leaching. In this case, sulfur should be added to the soil as a fertilizer.
Other gypsum applications:
Desulfurization of waste gases
purification of wastewater containing dyes
Match tip
Polishing car`s windscreens
Toothpaste