Due to the corrosive nature of sulfuric acid, a storage tank should be prepared for it which is not corrosive and has sufficient resistance against chemicals
Marketing in Middle East Sulfuric Acid and Chemicals Market
If you want to trade in the Middle East Sulfuric Acid and Chemicals Market, please join in Anbar Asia. Your order will be shown here, so the traders of Middle East contact you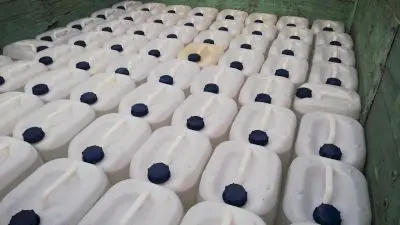 Due to the corrosive nature of sulfuric acid, a storage tank should be prepared for it which is not corrosive and has sufficient resistance against chemicals.
Containers and storage tanks containing Sulfuric acid should be well sealed and ensure their lids are tightly closed.
And regularly check for any leakage and overflows. If acid is spilled, neutralize it with lime and then wash the contaminated area with plenty of water.
Avoid spilling water on the sulfuric acid, as this will cause heat to build up and acid to spray around. Do not use a piece of cloth or sawdust to absorb the spilled material.
Inform the fire station if the leakage does not stop safely or if it is not possible to safely transfer the material to safe containers.
Sulfuric acid (even in small amounts) should be kept away from other chemicals, especially organic materials, nitrates, chlorates, carbides, peroxides, metal powders, oxidizing Chemicals and flammable substances, also be careful that smoking and generating any flame near the storage site should be strictly avoided.
Sulfuric acid is one of the most widely used chemicals in the United States. More sulfuric acid is produced every year than any other chemical. It has a multitude of industry-specific uses, such as the production of other chemicals, dyes and pigments, water treatment, and fertilizers. In this article, we'll look at why storing sulfuric acid is such an interesting challenge, and how we've adapted our tank system requirements to resolve these challenges. Sulfuric acid is a highly corrosive mineral acid that challenges traditional chemical storage options. The biggest challenge in working with sulfuric acid is that it's an aggressive oxidizer. Poly Processing Company's tanks and fittings can be combined specifically to store sulfuric acid and reduce the risks. Sulfuric acid presents serious storage issues because it's a very heavy chemical, especially at high concentrations. Sulfuric acid poses the following serious storage challenges:. All of these things should be taken into consideration when designing your sulfuric acid storage system. For more information on sulfuric acid challenges, read our sulfuric acid storage guide. When storing sulfuric acid in a Poly Processing tank, just remember the 11/15 rule. Other storage requirements for sulfuric acid vary, depending on the concentration of the chemical.