Base Oil is one of the most important raw materials for industry and automobiles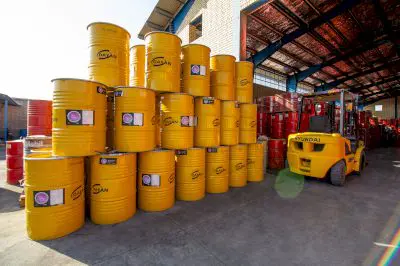 It is one of the most important raw materials for industry and automobiles. This type of oil is the most widely used raw material for industry and constitutes engine oils and industrial lubricants. Base oil is the name given to first-class lubricating oils. The method of preparation of these oils is first produced by refining Crude oil or through Chemical synthesis.
This substance can be obtained from oil and non-oil sources, but this substance is produced from oil refineries. Oil in the world for lubrication is increasing day by day. For one of the applications of this type of material, he mentioned turbine oil, more than 99% of it is this oil.
Base oils are used to make products such as lubricants, engine oils and metalworking fluids. Different products require different oils and compounds. One of the most important factors is the viscosity of the liquid at different temperatures. Whether or not the crude oil is suitable for preparation in the base oil is determined by the concentration of the base oil molecules as well as the ease of extraction.
The base oil is produced using crude oil refining. This means that the crude oil is heated in order to heat the possibility of different distillations from each other.
During the heating process, light and heavy hydrocarbons are separated - lighter ones can be refined to make gasoline and other fuels, while heavier ones are suitable for Bitumen and base oils.
There are many crude oils around the world that are used to make base oils. The most common is a type of Paraffin crude oil, although there are also Petroleum oils that produce products with better solubility and excellent properties at low temperatures. Using hydrogenation technology, in which sulfur and aromatics are removed using high-pressure hydrogen, you can obtain very pure base oils, which are suitable in cases where the quality requirements are particularly precise.
Chemicals - Additives - are added to the base oil in order to meet the quality needs of the final products in terms of, for example, friction and cleaning properties. Certain types of Engine oil contain more than twenty percent additives.

[301 Pages Report] The global base oil market is projected to grow from USD 28. The growing demand for high-grade oils in the automotive industry is driving the base oil industry growth. The agreements, as well as plant expansions made by many prominent players in the base oil industry, are one of the key factors. The lucrative market opportunities in the regions of Brazil, Russia, India, and China (BRIC), as well as the rising demand for renewable energy, are expected to boost the base oil market. The pandemic is estimated to have huge impact on the end-use industries of base oil, which is expected to reflect during the forecast period, especially in the year 2020-2021. The selection of base oil has a huge impact on the overall performance of the finished lubricants. Engine oils are composed of 70–90 percent base oil and 10–30 percent additives. Thus, the growing demand for high-grade engine oils is expected to fuel the market for base oil as well. High-performance engine oils can help withstand extreme and rigorous conditions for diesel trucks, passenger cars, light-duty trucks, and stationary engines. Engine oils are majorly composed of base oil. Therefore, the growing demand for high-grade oils in the automotive industry is driving the base oil market growth. Since the early 20th century, base oil production has been dominated by Group I. However, at present, the Group I base oil is expected to record a significant drop in demand, especially in the European and North American regions. This downsizing is majorly attributed to the increasing inclination toward cleaner and better-quality base oil, as Group I base oil has a high content of impurities, such as sulfur, nitrogen, olefins, and PCNA (Poly-Cyclic Nuclear Aromatics). The high sulfur content of Group I base oil makes it difficult to meet the mid SAPS (Sulfated Ash, Phosphorous, and Sulfur) specifications or match the high performance of lighter viscosity grade oils. This will boost all the associated sectors, thereby driving the growth of related industries, such as base oil and lubricants, as well. The base oil market is significantly influenced by the variation in the crude oil market. The majority of the base oil types are mineral oil-based, which are sourced from crude oil. Therefore, the prices of base oil highly depend on crude oil prices. With high crude oil prices, manufacturers enjoy higher margins, but the price change has a huge impact on the base oil market. The Group II base oil segment accounted for the largest base oil market share in 2019. The Group II base oil segment is projected to lead the market in terms of both value and volume during the forecast period. Group II base oil can be employed in a multitude of applications such as marine and gas engine applications, in trunk piston engine oils, and other applications in the base oil industry. The growth in this market is attributed mainly to the high performance and the affordability of Group II base oil in comparison to the other base oil (Group) segments. Based on the application, the base oil industry has been segmented into automotive oil, industrial oil, hydraulic oil, grease, metalworking fluid, and others. The other application in base oils includes agriculture, additives, and detergents/dispersants. Furthermore, the surge in the population in the regions of Asia Pacific is driving the demand for the automotive industry, and thus propelling the market for the automotive oil application segment of the base oil. The Asia Pacific region is estimated to be the largest market for base oil in 2019. China, Japan, and India are the significant consumers of base oil in this region. Increasing GDP led by the rising industrial activities in the Asia Pacific region has increased the demand for base oil in this region. Furthermore, the growth of transportation, power generation, mining, and other sectors are responsible for the growth of the base oil market in the Asia Pacific. (Poland), Sepahan Oil (Iran), GS Caltex Corporation (South Korea), and Hindustan Petroleum Corporation Limited or HPCL (India) are some of the leading players operating in the base oil market. (Poland), Sepahan Oil (Iran), GS Caltex Corporation (South Korea), and Hindustan Petroleum Corporation Limited or HPCL (India). This research report categorizes the base oil market based on group, application, and region. The global base oil market is estimated to be USD 28. (South Korea) fall under the leading manufacturers in the evolving base oil market. COVID-19 outbreak is expected to have a major impact on the various end-use industries of global demand for base oil market. The outbreak and the spread of the COVID-19 led to major disruptions across end-use industries such as automotive, manufacturing, mining and metalworking, thereby resulting in reduced demand for base oil products, particularly during the years 2020-2021. The market size of base oil market in 2019 was USD 33. The major application of base oil are Automotive Oil, Industrial Oil, Metalworking Fluid, Greases and Hydraulic Oil. 1 INCLUSIONS & EXCLUSIONS TABLE 1 BASE OIL MARKET: INCLUSIONS & EXCLUSIONS 1. 1 RESEARCH DATA FIGURE 1 BASE OIL MARKET: RESEARCH DESIGN 2. 1 ATTRACTIVE OPPORTUNITIES IN BASE OIL MARKET FIGURE 13 BASE OIL MARKET IS PROJECTED TO WITNESS SLUGGISH GROWTH DURING FORECAST PERIOD 55 4. 2 ASIA PACIFIC BASE OIL MARKET, BY GROUP & COUNTRY FIGURE 14 GROUP II AND CHINA ESTIMATED TO DOMINATE ASIA PACIFIC BASE OIL MARKET IN 2020 (KILOTON 4. 3 BASE OIL MARKET, BY GROUP FIGURE 15 GROUP II SEGMENT PROJECTED TO LEAD BASE OIL MARKET DURING FORECAST PERIOD 4. 4 BASE OIL MARKET, BY APPLICATION FIGURE 16 AUTOMOTIVE OIL TO DOMINATE BASE OIL MARKET DURING FORECAST PERIOD (KILO TONS 4. 5 BASE OIL MARKET GROWTH FIGURE 17 BASE OIL MARKET IN ASIA PACIFIC TO GROW AT HIGHEST CAGR DURING FORECAST PERIOD (KILOTON. 5 BASE OIL PATENT ANALYSIS (Page No. 2 MARKET SEGMENTATION TABLE 3 BASE OIL MARKET, BY GROUP TABLE 4 BASE OIL MARKET, BY TYPE TABLE 5 BASE OIL MARKET, BY APPLICATION FIGURE 21 BASE OIL MARKET, BY REGION 6. 3 MARKET DYNAMICS FIGURE 22 DRIVERS, RESTRAINTS, OPPORTUNITIES, AND CHALLENGES OF THE BASE OIL MARKET 64 6. 1 Declining demand for Group I base oil 6. 5 PORTER'S FIVE FORCES ANALYSIS FIGURE 23 BASE OIL MARKET: PORTER'S FIVE FORCES ANALYSIS 6. 7 RE-REFINED BASE OIL MARKET (Page No. 2 TECHNOLOGY FOR RE-REFINED BASE OIL FIGURE 24 DRIVERS, RESTRAINTS, OPPORTUNITIES, AND CHALLENGES OF THE BASE OIL MARKET 7. 1 NORTH AMERICA FIGURE 25 RE-REFINED BASE OIL CAPACITY, BY REGION (2014) TABLE 14 CAPACITY OF MAJOR RE-REFINING OIL COMPANIES, BY REGION, 2014 (METRIC TONS) 7. 8 BASE OIL MARKET, BY TYPE (Page No. 1 GROWING EMPHASIS ON PREMIUM GRADE PRODUCTS TO AFFECT THE MARKET FOR MINERAL GRADE BASE OIL 8. 9 BASE OIL MARKET, BY GROUP (Page No. 1 INTRODUCTION FIGURE 26 GROUP II SEGMENT PROJECTED TO LEAD BASE OIL MARKET DURING FORECAST PERIOD 84 TABLE 15 BASE OIL MARKET SIZE, BY GROUP, 2016-2019 (USD MILLION) TABLE 16 BASE OIL MARKET SIZE, BY GROUP, 2020-2025 (USD MILLION) TABLE 17 BASE OIL MARKET SIZE, BY GROUP, 2016-2019 (KILOTONS) TABLE 18 BASE OIL MARKET SIZE, BY GROUP, 2020-2025 (KILOTONS) 9. 1 HIGH SULFUR AND AROMATICS CONTENT PROJECTED TO AFFECT THE DEMAND FOR GROUP I BASE OIL TABLE 19 GROUP I BASE OIL MARKET SIZE, BY REGION, 2016-2019 (USD MILLION) TABLE 20 GROUP I BASE OIL MARKET SIZE, BY REGION, 2020-2025 (USD MILLION) TABLE 21 GROUP I BASE OIL MARKET SIZE, BY REGION, 2016-2019 (KILOTONS) TABLE 22 GROUP I BASE OIL MARKET SIZE, BY REGION, 2020-2025 (KILOTONS) 9. 1 RISING DEMAND FROM AUTOMOTIVE LUBRICANTS DRIVES THE MARKET FOR GROUP II BASE OIL TABLE 23 GROUP II BASE OIL MARKET SIZE, BY REGION, 2016-2019 (USD MILLION) TABLE 24 GROUP II BASE OIL MARKET SIZE, BY REGION, 2020-2025 (USD MILLION) TABLE 25 GROUP II BASE OIL MARKET SIZE, BY REGION, 2016-2019 (KILOTONS) TABLE 26 GROUP II BASE OIL MARKET SIZE, BY REGION, 2020-2025 (KILOTONS) 9. 1 INCLINATION TOWARD FUEL-EFFICIENT LUBRICANTS PROPELS THE DEMAND FOR GROUP III BASE OIL TABLE 27 GROUP III BASE OIL MARKET SIZE, BY REGION, 2016-2019 (USD MILLION) TABLE 28 GROUP III BASE OIL MARKET SIZE, BY REGION, 2020-2025 (USD MILLION) TABLE 29 GROUP III BASE OIL MARKET SIZE, BY REGION, 2016-2019 (KILOTONS) TABLE 30 GROUP III BASE OIL MARKET SIZE, BY REGION, 2020-2025 (KILOTONS) 9. 1 HIGH VISCOSITY INDEX CONTRIBUTES TO THE GROWTH OF GROUP IV BASE OIL TABLE 31 GROUP IV BASE OIL MARKET SIZE, BY REGION, 2016-2019 (USD MILLION) TABLE 32 GROUP IV BASE OIL MARKET SIZE, BY REGION, 2020-2025 (USD MILLION) TABLE 33 GROUP IV BASE OIL MARKET SIZE, BY REGION, 2016-2019 (KILOTONS) TABLE 34 GROUP IV BASE OIL MARKET SIZE, BY REGION, 2020-2025 (KILOTONS) 9. 1 ESTERS ARE WIDELY USED IN GROUP V BASE OIL MANUFACTURING TABLE 35 GROUP V BASE OIL MARKET SIZE, BY REGION, 2016-2019 (USD MILLION) TABLE 36 GROUP V BASE OIL MARKET SIZE, BY REGION, 2020-2025 (USD MILLION) TABLE 37 GROUP V BASE OIL MARKET SIZE, BY REGION, 2016-2019 (KILOTONS) TABLE 38 GROUP V BASE OIL MARKET SIZE, BY REGION, 2020-2025 (KILOTONS). 10 BASE OIL MARKET, BY APPLICATION (Page No. 1 INTRODUCTION FIGURE 27 AUTOMOTIVE OIL PROJECTED TO LEAD BASE OIL MARKET DURING FORECAST PERIOD TABLE 39 BASE OIL MARKET SIZE, BY APPLICATION, 2016-2019 (USD MILLION) TABLE 40 BASE OIL MARKET SIZE, BY APPLICATION, 2020-2025 (USD MILLION) TABLE 41 BASE OIL MARKET SIZE, BY APPLICATION, 2016-2019 (KILOTONS) TABLE 42 BASE OIL MARKET SIZE, BY APPLICATION, 2020-2025 (KILOTONS) 10. 1 ASIA PACIFIC IS THE LARGEST CONSUMER OF AUTOMOTIVE OIL GLOBALLY TABLE 43 BASE OIL MARKET SIZE IN AUTOMOTIVE OIL, BY REGION, 2016-2020 (USD MILLION) TABLE 44 BASE OIL MARKET SIZE IN AUTOMOTIVE OIL, BY REGION, 2020-2025 (USD MILLION) TABLE 45 BASE OIL MARKET SIZE IN AUTOMOTIVE OIL, BY REGION, 2016-2019 (KILOTONS) TABLE 46 BASE OIL MARKET SIZE IN AUTOMOTIVE OIL, BY REGION, 2020-2025 (KILOTONS) 10. 1 GROWING INDUSTRIALIZATION TO DRIVE THE MARKET FOR INDUSTRIAL OIL TABLE 47 BASE OIL MARKET SIZE IN INDUSTRIAL OIL, BY REGION, 2016-2019 (USD MILLION) TABLE 48 BASE OIL MARKET SIZE IN INDUSTRIAL OIL, BY REGION, 2020-2025 (USD MILLION) TABLE 49 BASE OIL MARKET SIZE IN INDUSTRIAL OIL, BY REGION, 2016-2019 (KILOTONS) TABLE 50 BASE OIL MARKET SIZE IN INDUSTRIAL OIL, BY REGION, 2020-2025 (KILOTONS) 10. 1 GROWING METAL & MINING INDUSTRY TO DRIVE THE METALWORKING FLUID MARKET 103 TABLE 51 BASE OIL MARKET SIZE IN METALWORKING FLUID, BY REGION, 2016-2019 (USD MILLION) TABLE 52 BASE OIL MARKET SIZE IN METALWORKING FLUID, BY REGION, 2020-2025 (USD MILLION) TABLE 53 BASE OIL MARKET SIZE IN METALWORKING FLUID, BY REGION, 2016-2019 (KILOTONS) TABLE 54 BASE OIL MARKET SIZE IN METALWORKING FLUID, BY REGION, 2020-2025 (KILOTONS) 10. 1 DEMAND FOR HYDRAULIC OILS ESTIMATED TO BE LARGELY DRIVEN BY DEVELOPING COUNTRIES OF ASIA PACIFIC, THE MIDDLE EAST & AFRICA, AND SOUTH AMERICA TABLE 55 BASE OIL MARKET SIZE IN HYDRAULIC OIL, BY REGION, 2016-2019 (USD MILLION) TABLE 56 BASE OIL MARKET SIZE IN HYDRAULIC OIL, BY REGION, 2020-2025 (USD MILLION) TABLE 57 BASE OIL MARKET SIZE IN HYDRAULIC OIL, BY REGION, 2016-2019 (KILOTONS) TABLE 58 BASE OIL MARKET SIZE IN HYDRAULIC OIL, BY REGION, 2020-2025 (KILOTONS) 10. 1 MINING, CONSTRUCTION, AND TRANSPORTATION SECTORS ARE MAJOR CONSUMERS OF GREASE TABLE 59 BASE OIL MARKET SIZE IN GREASE, BY REGION, 2016-2019 (USD MILLION) TABLE 60 BASE OIL MARKET SIZE IN GREASE, BY REGION, 2020-2025 (USD MILLION) TABLE 61 BASE OIL MARKET SIZE IN GREASE, BY REGION, 2016-2019 (KILOTONS) TABLE 62 BASE OIL MARKET SIZE IN GREASE, BY REGION, 2020-2025 (KILOTONS) 10. 7 OTHERS TABLE 63 BASE OIL MARKET SIZE IN OTHERS, BY REGION, 2016-2019 (USD MILLION) TABLE 64 BASE OIL MARKET SIZE IN OTHERS, BY REGION, 2020-2025 (USD MILLION) TABLE 65 BASE OIL MARKET SIZE IN OTHERS, BY REGION, 2016-2019 (KILOTONS) TABLE 66 BASE OIL MARKET SIZE IN OTHERS, BY REGION, 2020-2025 (KILOTONS). 11 BASE OIL MARKET, BY REGION (Page No. 1 INTRODUCTION FIGURE 28 ASIA PACIFIC TO BE LARGEST MARKET FOR BASE OIL DURING FORECAST PERIOD TABLE 67 BASE OIL MARKET SIZE, BY REGION, 2016-2019 (USD MILLION) TABLE 68 BASE OIL MARKET SIZE, BY REGION, 2020-2025 (USD MILLION) TABLE 69 BASE OIL MARKET SIZE, BY REGION, 2016-2019 (KILOTONS) TABLE 70 BASE OIL MARKET SIZE, BY REGION, 2020-2025 (KILOTONS) 11. 2 ASIA PACIFIC FIGURE 29 ASIA PACIFIC: BASE OIL MARKET SNAPSHOT TABLE 71 ASIA PACIFIC: BASE OIL MARKET SIZE, BY COUNTRY, 2016-2019 (USD MILLION) TABLE 72 ASIA PACIFIC: BASE OIL MARKET SIZE, BY COUNTRY, 2020-2025 (USD MILLION) TABLE 73 ASIA PACIFIC: BASE OIL MARKET SIZE, BY COUNTRY, 2016-2019 (KILOTONS) TABLE 74 ASIA PACIFIC: BASE OIL MARKET SIZE, BY COUNTRY, 2020-2025 (KILOTONS) TABLE 75 ASIA PACIFIC: BASE OIL MARKET SIZE, BY GROUP, 2016-2019 (USD MILLION) TABLE 76 ASIA PACIFIC: BASE OIL MARKET SIZE, BY GROUP, 2020-2025 (USD MILLION) TABLE 77 ASIA PACIFIC: BASE OIL MARKET SIZE, BY GROUP, 2016-2019 (KILOTONS) TABLE 78 ASIA PACIFIC: BASE OIL MARKET SIZE, BY GROUP, 2020-2025 (KILOTONS) TABLE 79 ASIA PACIFIC: BASE OIL MARKET SIZE, BY APPLICATION, 2016-2019 (USD MILLION) TABLE 80 ASIA PACIFIC: BASE OIL MARKET SIZE, BY APPLICATION, 2020-2025 (USD MILLION) TABLE 81 ASIA PACIFIC: BASE OIL MARKET SIZE, BY APPLICATION, 2016-2019 (KILOTONS) TABLE 82 ASIA PACIFIC: BASE OIL MARKET SIZE, BY APPLICATION, 2020-2025 (KILOTONS) 11. 1 Increasing population drives the demand for base oil in China TABLE 83 CHINA: BASE OIL MARKET SIZE, BY GROUP, 2016-2019 (USD MILLION) TABLE 84 CHINA: BASE OIL MARKET SIZE, BY GROUP, 2020-2025 (USD MILLION) TABLE 85 CHINA: BASE OIL MARKET SIZE, BY GROUP, 2016-2019 (KILOTONS) TABLE 86 CHINA: BASE OIL MARKET SIZE, BY GROUP, 2020-2025 (KILOTONS) TABLE 87 CHINA: BASE OIL MARKET SIZE, BY APPLICATION, 2016-2019 (USD MILLION) TABLE 88 CHINA: BASE OIL MARKET SIZE, BY APPLICATION, 2020-2025 (USD MILLION) TABLE 89 CHINA: BASE OIL MARKET SIZE, BY APPLICATION, 2016-2019 (KILOTONS) TABLE 90 CHINA: BASE OIL MARKET SIZE, BY APPLICATION, 2020-2025 (KILOTONS) 11. 1 Growing automotive production to fuel the base oil market in Japan TABLE 91 JAPAN: BASE OIL MARKET SIZE, BY GROUP, 2016-2019 (USD MILLION) TABLE 92 JAPAN: BASE OIL MARKET SIZE, BY GROUP, 2020-2025 (USD MILLION) TABLE 93 JAPAN: BASE OIL MARKET SIZE, BY GROUP, 2016-2019 (KILOTONS) TABLE 94 JAPAN: BASE OIL MARKET SIZE, BY GROUP, 2020-2025 (KILOTONS) TABLE 95 JAPAN: BASE OIL MARKET SIZE, BY APPLICATION, 2016-2019 (USD MILLION) TABLE 96 JAPAN: BASE OIL MARKET SIZE, BY APPLICATION, 2020-2025 (USD MILLION) TABLE 97 JAPAN: BASE OIL MARKET SIZE, BY APPLICATION, 2016-2019 (KILOTONS) TABLE 98 JAPAN: BASE OIL MARKET SIZE, BY APPLICATION, 2020-2025 (KILOTONS) 11. 1 Rapid urbanization and growing population to boost the demand for base oil in India TABLE 99 INDIA: BASE OIL MARKET SIZE, BY GROUP, 2016-2019 (USD MILLION) TABLE 100 INDIA: BASE OIL MARKET SIZE, BY GROUP, 2020-2025 (USD MILLION) TABLE 101 INDIA: BASE OIL MARKET SIZE, BY GROUP, 2016-2019 (KILOTONS) TABLE 102 INDIA: BASE OIL MARKET SIZE, BY GROUP, 2020-2025 (KILOTONS) TABLE 103 INDIA: BASE OIL MARKET SIZE, BY APPLICATION, 2016-2019 (USD MILLION) TABLE 104 INDIA: BASE OIL MARKET SIZE, BY APPLICATION, 2020-2025 (USD MILLION) TABLE 105 INDIA: BASE OIL MARKET SIZE, BY APPLICATION, 2016-2019 (KILOTONS) TABLE 106 INDIA: BASE OIL MARKET SIZE, BY APPLICATION, 2020-2025 (KILOTONS) 11. 1 Growing industrial development to generate a positive impact on the base oil market in South Korea TABLE 107 SOUTH KOREA: BASE OIL MARKET SIZE, BY GROUP, 2016-2019 (USD MILLION) TABLE 108 SOUTH KOREA: BASE OIL MARKET SIZE, BY GROUP, 2020-2025 (USD MILLION) TABLE 109 SOUTH KOREA: BASE OIL MARKET SIZE, BY GROUP, 2016-2019 (KILOTONS) TABLE 110 SOUTH KOREA: BASE OIL MARKET SIZE, BY GROUP, 2020-2025 (KILOTONS) TABLE 111 SOUTH KOREA: BASE OIL MARKET SIZE, BY APPLICATION, 2016-2019 (USD MILLION) TABLE 112 SOUTH KOREA: BASE OIL MARKET SIZE, BY APPLICATION, 2020-2025 (USD MILLION) TABLE 113 SOUTH KOREA: BASE OIL MARKET SIZE, BY APPLICATION, 2016-2019 (KILOTONS) TABLE 114 SOUTH KOREA: BASE OIL MARKET SIZE, BY APPLICATION, 2020-2025 (KILOTONS) 11. 1 Rising oil production to spur the demand for base oil in Indonesia TABLE 115 INDONESIA: BASE OIL MARKET SIZE, BY GROUP, 2016-2019 (USD MILLION) TABLE 116 INDONESIA: BASE OIL MARKET SIZE, BY GROUP, 2020-2025 (USD MILLION) TABLE 117 INDONESIA: BASE OIL MARKET SIZE, BY GROUP, 2016-2019 (KILOTONS) TABLE 118 INDONESIA: BASE OIL MARKET SIZE, BY GROUP, 2020-2025 (KILOTONS) TABLE 119 INDONESIA: BASE OIL MARKET SIZE, BY APPLICATION, 2016-2019 (USD MILLION) TABLE 120 INDONESIA: BASE OIL MARKET SIZE, BY APPLICATION, 2020-2025 (USD MILLION) TABLE 121 INDONESIA: BASE OIL MARKET SIZE, BY APPLICATION, 2016-2019 (KILOTONS) TABLE 122 INDONESIA: BASE OIL MARKET SIZE, BY APPLICATION, 2020-2025 (KILOTONS) 11. 1 Rising production of automotive parts to drive the demand for base oil in Thailand TABLE 123 THAILAND: BASE OIL MARKET SIZE, BY GROUP, 2016-2019 (USD MILLION) TABLE 124 THAILAND: BASE OIL MARKET SIZE, BY GROUP, 2020-2025 (USD MILLION) TABLE 125 THAILAND: BASE OIL MARKET SIZE, BY GROUP, 2016-2019 (KILOTONS) TABLE 126 THAILAND: BASE OIL MARKET SIZE, BY GROUP, 2020-2025 (KILOTONS) TABLE 127 THAILAND: BASE OIL MARKET SIZE, BY APPLICATION, 2016-2019 (USD MILLION) TABLE 128 THAILAND: BASE OIL MARKET SIZE, BY APPLICATION, 2020-2025 (USD MILLION) TABLE 129 THAILAND: BASE OIL MARKET SIZE, BY APPLICATION, 2016-2019 (KILOTONS) TABLE 130 THAILAND: BASE OIL MARKET SIZE, BY APPLICATION, 2020-2025 (KILOTONS) 11. 7 REST OF ASIA PACIFIC TABLE 131 REST OF ASIA PACIFIC: BASE OIL MARKET SIZE, BY GROUP, 2016-2019 (USD MILLION) TABLE 132 REST OF ASIA PACIFIC: BASE OIL MARKET SIZE, BY GROUP, 2020-2025 (USD MILLION) TABLE 133 REST OF ASIA PACIFIC: BASE OIL MARKET SIZE, BY GROUP, 2016-2019 (KILOTONS) TABLE 134 REST OF ASIA PACIFIC: BASE OIL MARKET SIZE, BY GROUP, 2020-2025 (KILOTONS) TABLE 135 REST OF ASIA PACIFIC: BASE OIL MARKET SIZE, BY APPLICATION, 2016-2019 (USD MILLION) TABLE 136 REST OF ASIA PACIFIC: BASE OIL MARKET SIZE, BY APPLICATION, 2020-2025 (USD MILLION) TABLE 137 REST OF ASIA PACIFIC: BASE OIL MARKET SIZE, BY APPLICATION, 2016-2019 (KILOTONS) TABLE 138 REST OF ASIA PACIFIC: BASE OIL MARKET SIZE, BY APPLICATION, 2020-2025 (KILOTONS) 11. 3 EUROPE FIGURE 30 EUROPE: BASE OIL MARKET SNAPSHOT TABLE 139 EUROPE: BASE OIL MARKET SIZE, BY COUNTRY, 2016-2019 (USD MILLION) TABLE 140 EUROPE: BASE OIL MARKET SIZE, BY COUNTRY, 2020-2025 (USD MILLION) TABLE 141 EUROPE: BASE OIL MARKET SIZE, BY COUNTRY, 2016-2019 (KILOTONS) TABLE 142 EUROPE: BASE OIL MARKET SIZE, BY COUNTRY, 2020-2025 (KILOTONS) TABLE 143 EUROPE: BASE OIL MARKET SIZE, BY GROUP, 2016-2019 (USD MILLION) TABLE 144 EUROPE: BASE OIL MARKET SIZE, BY GROUP, 2020-2025 (USD MILLION) TABLE 145 EUROPE: BASE OIL MARKET SIZE, BY GROUP, 2016-2019 (KILOTONS) TABLE 146 EUROPE: BASE OIL MARKET SIZE, BY GROUP, 2020-2025 (KILOTONS) TABLE 147 EUROPE: BASE OIL MARKET SIZE, BY APPLICATION,2016-2019 (USD MILLION) TABLE 148 EUROPE: BASE OIL MARKET SIZE, BY APPLICATION, 2020-2025 (USD MILLION) TABLE 149 EUROPE: BASE OIL MARKET SIZE, BY APPLICATION, 2016-2019 (KILOTONS) TABLE 150 EUROPE: BASE OIL MARKET SIZE, BY APPLICATION, 2020-2025 (KILOTONS) 11. 1 Russia dominated the European base oil market in 2019 TABLE 151 RUSSIA: BASE OIL MARKET SIZE, BY GROUP, 2016-2019 (USD MILLION) TABLE 152 RUSSIA: BASE OIL MARKET SIZE, BY GROUP, 2020-2025 (USD MILLION) TABLE 153 RUSSIA: BASE OIL MARKET SIZE, BY GROUP, 2016-2019 (KILOTONS) TABLE 154 RUSSIA: BASE OIL MARKET SIZE, BY GROUP, 2020-2025 (KILOTONS) TABLE 155 RUSSIA: BASE OIL MARKET SIZE, BY APPLICATION, 2016-2019 (USD MILLION) TABLE 156 RUSSIA: BASE OIL MARKET SIZE, BY APPLICATION, 2020-2025 (USD MILLION) TABLE 157 RUSSIA: BASE OIL MARKET SIZE, BY APPLICATION, 2016-2019 (KILOTONS) TABLE 158 RUSSIA: BASE OIL MARKET SIZE, BY APPLICATION, 2020-2025 (KILOTONS) 11. 1 Base oil market majorly driven by the automobile industry in Germany TABLE 159 GERMANY: BASE OIL MARKET SIZE, BY GROUP, 2016-2019 (USD MILLION) TABLE 160 GERMANY: BASE OIL MARKET SIZE, BY GROUP, 2020-2025 (USD MILLION) TABLE 161 GERMANY: BASE OIL MARKET SIZE, BY GROUP, 2016-2019 (KILOTONS) TABLE 162 GERMANY: BASE OIL MARKET SIZE, BY GROUP, 2020-2025 (KILOTONS) TABLE 163 GERMANY: BASE OIL MARKET SIZE, BY APPLICATION, 2016-2019 (USD MILLION) TABLE 164 GERMANY: BASE OIL MARKET SIZE, BY APPLICATION, 2020-2025 (USD MILLION) TABLE 165 GERMANY: BASE OIL MARKET SIZE, BY APPLICATION, 2016-2019 (KILOTONS) TABLE 166 GERMANY: BASE OIL MARKET SIZE, BY APPLICATION, 2020-2025 (KILOTONS) 11. 1 Presence of major base oil manufacturing companies supports the market growth in France TABLE 167 FRANCE: BASE OIL MARKET SIZE, BY GROUP, 2016-2019 (USD MILLION) TABLE 168 FRANCE: BASE OIL MARKET SIZE, BY GROUP, 2020-2025 (USD MILLION) TABLE 169 FRANCE: BASE OIL MARKET SIZE, BY GROUP, 2016-2019 (KILOTONS) TABLE 170 FRANCE: BASE OIL MARKET SIZE, BY GROUP, 2020-2025 (KILOTONS) TABLE 171 FRANCE: BASE OIL MARKET SIZE, BY APPLICATION, 2016-2019 (USD MILLION) TABLE 172 FRANCE: BASE OIL MARKET SIZE, BY APPLICATION, 2020-2025 (USD MILLION) TABLE 173 FRANCE: BASE OIL MARKET SIZE, BY APPLICATION, 2016-2019 (KILOTONS) TABLE 174 FRANCE: BASE OIL MARKET SIZE, BY APPLICATION, 2020-2025 (KILOTONS) 11. 1 Group I accounted for the largest share of the base oil marketin Italy in 2018 TABLE 175 ITALY: BASE OIL MARKET SIZE, BY GROUP, 2016-2019 (USD MILLION) TABLE 176 ITALY: BASE OIL MARKET SIZE, BY GROUP, 2020-2025 (USD MILLION) TABLE 177 ITALY: BASE OIL MARKET SIZE, BY GROUP, 2016-2019 (KILOTONS) TABLE 178 ITALY: BASE OIL MARKET SIZE, BY GROUP, 2020-2025 (KILOTONS) TABLE 179 ITALY: BASE OIL MARKET SIZE, BY APPLICATION, 2016-2019 (USD MILLION) TABLE 180 ITALY: BASE OIL MARKET SIZE, BY APPLICATION, 2020-2025 (USD MILLION) TABLE 181 ITALY: BASE OIL MARKET SIZE, BY APPLICATION, 2016-2019 (KILOTONS) TABLE 182 ITALY: BASE OIL MARKET SIZE, BY APPLICATION, 2020-2025 (KILOTONS) 11. 1 The UK is the fifth-largest consumer of base oil in Europe TABLE 183 UK: BASE OIL MARKET SIZE, BY GROUP, 2016-2019 (USD MILLION) TABLE 184 UK: BASE OIL MARKET SIZE, BY GROUP, 2020-2025 (USD MILLION) TABLE 185 UK: BASE OIL MARKET SIZE, BY GROUP, 2016-2019 (KILOTONS) TABLE 186 UK: BASE OIL MARKET SIZE, BY GROUP, 2020-2025 (KILOTONS) TABLE 187 UK: BASE OIL MARKET SIZE, BY APPLICATION, 2016-2019 (USD MILLION) TABLE 188 UK: BASE OIL MARKET SIZE, BY APPLICATION, 2020-2025 (USD MILLION) TABLE 189 UK: BASE OIL MARKET SIZE, BY APPLICATION, 2016-2019 (KILOTONS) TABLE 190 UK: BASE OIL MARKET SIZE, BY APPLICATION, 2020-2025 (KILOTONS) 11. 1 Automotive oil segment accounted for the largest share of the base oil market in Spain in 2018 TABLE 191 SPAIN: BASE OIL MARKET SIZE, BY GROUP, 2016-2019 (USD MILLION) TABLE 192 SPAIN: BASE OIL MARKET SIZE, BY GROUP, 2020-2025 (USD MILLION) TABLE 193 SPAIN: BASE OIL MARKET SIZE, BY GROUP, 2016-2019 (KILOTONS) TABLE 194 SPAIN: BASE OIL MARKET SIZE, BY GROUP, 2020-2025 (KILOTONS) TABLE 195 SPAIN: BASE OIL MARKET SIZE, BY APPLICATION, 2016-2019 (USD MILLION) TABLE 196 SPAIN: BASE OIL MARKET SIZE, BY APPLICATION, 2020-2025 (USD MILLION) TABLE 197 SPAIN: BASE OIL MARKET SIZE, BY APPLICATION, 2016-2019 (KILOTONS) TABLE 198 SPAIN: BASE OIL MARKET SIZE, BY APPLICATION, 2020-2025 (KILOTONS) 11. 7 REST OF EUROPE TABLE 199 REST OF EUROPE: BASE OIL MARKET SIZE, BY GROUP, 2016-2019 (USD MILLION) TABLE 200 REST OF EUROPE: BASE OIL MARKET SIZE, BY GROUP, 2020-2025 (USD MILLION) TABLE 201 REST OF EUROPE: BASE OIL MARKET SIZE, BY GROUP, 2016-2019 (KILOTONS) TABLE 202 REST OF EUROPE: BASE OIL MARKET SIZE, BY GROUP, 2020-2025 (KILOTONS) TABLE 203 REST OF EUROPE: BASE OIL MARKET SIZE, BY APPLICATION, 2016-2019 (USD MILLION) TABLE 204 REST OF EUROPE: BASE OIL MARKET SIZE, BY APPLICATION, 2020-2025 (USD MILLION) TABLE 205 REST OF EUROPE: BASE OIL MARKET SIZE, BY APPLICATION, 2016-2019 (KILOTONS) TABLE 206 REST OF EUROPE: BASE OIL MARKET SIZE, BY APPLICATION, 2020-2025 (KILOTONS) 11. 4 NORTH AMERICA TABLE 207 BASE OIL PRODUCTION CAPACITY OF 10 MAJOR PLAYERS IN NORTH AMERICA, 2018-2019 (KILOTONS) FIGURE 31 NORTH AMERICA: BASE OIL MARKET SNAPSHOT TABLE 208 NORTH AMERICA: BASE OIL MARKET, BY COUNTRY, 2016-2019 (USD MILLION) TABLE 209 NORTH AMERICA: BASE OIL MARKET, BY COUNTRY, 2020-2025 (USD MILLION) TABLE 210 NORTH AMERICA: BASE OIL MARKET, BY COUNTRY, 2016-2019 (KILOTONS) TABLE 211 NORTH AMERICA: BASE OIL MARKET, BY COUNTRY, 2020-2025 (KILOTONS) TABLE 212 NORTH AMERICA: BASE OIL MARKET, BY GROUP, 2016-2019 (USD MILLION) TABLE 213 NORTH AMERICA: BASE OIL MARKET, BY GROUP, 2020-2025 (USD MILLION) TABLE 214 NORTH AMERICA: BASE OIL MARKET, BY GROUP, 2016-2019 (KILOTONS) TABLE 215 NORTH AMERICA: BASE OIL MARKET, BY GROUP, 2020-2025 (KILOTONS) TABLE 216 NORTH AMERICA: BASE OIL MARKET, BY APPLICATION, 2016-2019 (USD MILLION) TABLE 217 NORTH AMERICA: BASE OIL MARKET, BY APPLICATION, 2020-2025 (USD MILLION) TABLE 218 NORTH AMERICA: BASE OIL MARKET, BY APPLICATION, 2016-2019 (KILOTONS) TABLE 219 NORTH AMERICA: BASE OIL MARKET, BY APPLICATION, 2020-2025 (KILOTONS) 11. 1 Rising demand for Group II and Group II+ base oils to drive the base oil market in the US TABLE 220 US: BASE OIL MARKET, BY GROUP, 2016-2019 (USD MILLION) TABLE 221 US: BASE OIL MARKET, BY GROUP, 2020-2025 (USD MILLION) TABLE 222 US: BASE OIL MARKET, BY GROUP, 2016-2019 (KILOTONS) TABLE 223 US: BASE OIL MARKET, BY GROUP, 2020-2025 (KILOTONS) TABLE 224 US: BASE OIL MARKET, BY APPLICATION, 2016-2019 (USD MILLION) TABLE 225 US: BASE OIL MARKET, BY APPLICATION, 2020-2025 (USD MILLION) TABLE 226 US: BASE OIL MARKET, BY APPLICATION, 2016-2019 (KILOTONS) TABLE 227 US: BASE OIL MARKET, BY APPLICATION, 2020-2025 (KILOTONS) 11. 1 Canada is the second-largest market for base oil in the North American region TABLE 228 CANADA: BASE OIL MARKET, BY GROUP, 2016-2019 (USD MILLION) TABLE 229 CANADA: BASE OIL MARKET, BY GROUP, 2020-2025 (USD MILLION) TABLE 230 CANADA: BASE OIL MARKET, BY GROUP, 2016-2019 (KILOTONS) TABLE 231 CANADA: BASE OIL MARKET, BY GROUP, 2020-2025 (KILOTONS) TABLE 232 CANADA: BASE OIL MARKET, BY APPLICATION, 2016-2019 (USD MILLION) TABLE 233 CANADA: BASE OIL MARKET, BY APPLICATION, 2020-2025 (USD MILLION) TABLE 234 CANADA: BASE OIL MARKET, BY APPLICATION, 2016-2019 (KILOTONS) TABLE 235 CANADA: BASE OIL MARKET, BY APPLICATION, 2020-2025 (KILOTONS) 11. 1 Growth in power generation, oil & gas, and manufacturing sectors drives the base oil market in Mexico TABLE 236 MEXICO: BASE OIL MARKET, BY GROUP, 2016-2019 (USD MILLION) TABLE 237 MEXICO: BASE OIL MARKET, BY GROUP, 2020-2025 (USD MILLION) TABLE 238 MEXICO: BASE OIL MARKET, BY GROUP, 2016-2019 (KILOTONS) TABLE 239 MEXICO: BASE OIL MARKET, BY GROUP, 2020-2025 (KILOTONS) TABLE 240 MEXICO: BASE OIL MARKET, BY APPLICATION, 2016-2019 (USD MILLION) TABLE 241 MEXICO: BASE OIL MARKET, BY APPLICATION, 2020-2025 (USD MILLION) TABLE 242 MEXICO: BASE OIL MARKET, BY APPLICATION, 2016-2019 (KILOTONS) TABLE 243 MEXICO: BASE OIL MARKET, BY APPLICATION, 2020-2025 (KILOTONS) 11. 5 MIDDLE EAST & AFRICA TABLE 244 MIDDLE EAST & AFRICA: BASE OIL MARKET, BY COUNTRY, 2016-2019 (USD MILLION) TABLE 245 MIDDLE EAST & AFRICA: BASE OIL MARKET, BY COUNTRY, 2020-2025 (USD MILLION) TABLE 246 MIDDLE EAST & AFRICA: BASE OIL MARKET, BY COUNTRY, 2016-2019 (KILOTONS) TABLE 247 MIDDLE EAST & AFRICA: BASE OIL MARKET, BY COUNTRY, 2020-2025 (KILOTONS) TABLE 248 MIDDLE EAST & AFRICA: BASE OIL MARKET, BY GROUP, 2016-2019 (USD MILLION) TABLE 249 MIDDLE EAST & AFRICA: BASE OIL MARKET, BY GROUP, 2020-2025 (USD MILLION) TABLE 250 MIDDLE EAST & AFRICA: BASE OIL MARKET, BY GROUP, 2016-2019 (KILOTONS) TABLE 251 MIDDLE EAST & AFRICA: BASE OIL MARKET, BY GROUP, 2020-2025 (KILOTONS) TABLE 252 MIDDLE EAST & AFRICA: BASE OIL MARKET, BY APPLICATION, 2016-2019 (USD MILLION) TABLE 253 MIDDLE EAST & AFRICA: BASE OIL MARKET, BY APPLICATION, 2020-2025 (USD MILLION) TABLE 254 MIDDLE EAST & AFRICA: BASE OIL MARKET, BY APPLICATION, 2016-2019 (KILOTONS) TABLE 255 MIDDLE EAST & AFRICA: BASE OIL MARKET, BY APPLICATION, 2020-2025 (KILOTONS) 11. 1 Saudi Arabia dominated the Middle East & Africa base oil market in 2018 TABLE 256 SAUDI ARABIA: BASE OIL MARKET, BY GROUP, 2016-2019 (USD MILLION) TABLE 257 SAUDI ARABIA: BASE OIL MARKET, BY GROUP, 2020-2025 (USD MILLION) TABLE 258 SAUDI ARABIA: BASE OIL MARKET, BY GROUP, 2016-2019 (KILOTONS) TABLE 259 SAUDI ARABIA: BASE OIL MARKET, BY GROUP,