Jordan has always pursued a pro-Western foreign policy and has long had close ties with the United States and Britain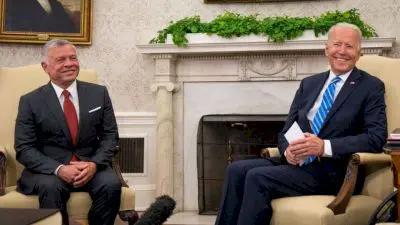 These close relations were strained during the first Gulf War due to Jordan's neutrality and maintaining its relations with Iraq. Jordan is known for its pragmatic foreign policy, which seeks to avoid conflict, and has had good foreign relations with neighboring countries.
The Jordanian rulers are now in dire need of the United States and Saudi arabia to maintain their sovereignty due to their severe geographical dependencies as well as their security constraints. Accordingly, their association with these Southwest Asian actors in forming any kind of coalition does not seem so strange.
Jordan's trade relations with the world
Given Jordan's geographical location, trade with Jordan can certainly be important for many Middle Eastern countries as well. Among the most important importers from Jordan are the United States, Iraq, Saudi Arabia, India, and Indonesia.
Jordan's most important exports to these countries include textiles, fertilizers, plastics, and their products, aircraft, spacecraft, and parts, edible vegetables, minerals, sulfur salts, lime and cement, nuclear reactors, boilers, phosphate, vegetables, medicine, and potash.
Also among the most important exporters of goods to Jordan are China, the United States, Italy, Turkey, and Saudi Arabia. Among the most important Jordanian imports from these countries include crude oil, iron, confiscation, and distribution. Audio, television, nuclear reactors, machinery and vehicles, mechanical equipment, non-train vehicles, mineral oils, pharmaceuticals, woven and crocheted fabrics, natural or cultured pearls, precious metals, and it will also be cereals.
Exports to Jordan and export items:
Iran sends various goods such as iron and Steel products, smiling pistachios, velvet flooring, Exports car parts, sanitary valves, seedless grapes, home water coolers, and Food pastes to Jordan.
One of the most important sectors in the Jordanian economy is tourism. The geography of this country as well as the relative political calm compared to other abandoned countries located in this region.
It has made tourism flourish in Jordan. Tourism in Jordan includes visiting countless historical sites and pristine natural areas and Jordanian cultural and religious attractions.
The most important export items of Jordan are textiles, fertilizers, potash, phosphates, vegetables, and medicine. The United States, Iraq, Saudi Arabia, India, and Indonesia are also major importers of goods from Jordan.
Jordan's economy and the problem of exporting to Jordan:
Because of the political relations and the fact that the Jordanian authorities are trying to implement the policies dictated by the West and its regional supporters towards Iran. The Jordanian economy is a small economy with limited natural resources.
Iran-Jordan relations are affected by the climate, and Jordan's foreign relations are designed based on economic conditions. That is why it is important to get foreign aid, and the country's sponsors dictate their policies.
It is accompanied by problems such as lack of water, oil, and other mineral resources and heavy reliance on foreign aid. In recent years, Jordan has taken extensive steps to reform its economic structures with the help of its political elite.