Using Fluorescence, Microscope, Magnets and Production in the market determine its originality
Marketing in Middle East Spinel and Gemstones Market
If you want to trade in the Middle East Spinel and Gemstones Market, please join in Anbar Asia. Your order will be shown here, so the traders of Middle East contact you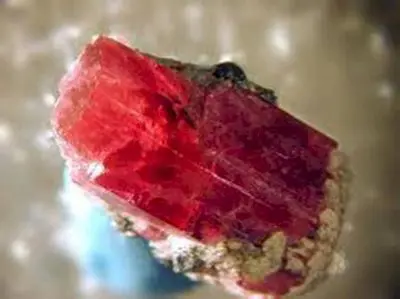 Fluorescence: Natural pearls show strong fluorescence under high-wavelength ultraviolet light, and weak under short-wavelength UV. Fluorescence image of artificial Spinel rock under short-wave UV light
However, its synthetic varieties show strong fluorescence during short wavelengths of UV rays and often show light blue, gypsum green or red.
Microscope: Under the microscope in samples of artificial spinel, traces of flux melting or bubbles in the form of patterns and curves are usually seen due to the way they are made and grown. This is while in natural samples there are many or at least some inclusions.
Magnets: Natural spinels contain some element of iron and therefore react poorly to the magnet. However, in the synthetic and synthetic spinel samples, there is no reaction due to the way they are made.
Production in the market: Synthetic spinels with dark red color due to the cost and complexity of the production process are made in small numbers and limited compared to other colors and usually these samples in the market of artificial corundum (ruby) and they are laboratory.
Light refractive index and specific gravity: Natural spinel has a refractive index of 1.72 to 1.74 for the red spinel and 1.805 when the Zinc element is high. The synthetic spinners, on the other hand, have an RI of 1.727 with an error of one thousandth. Also, the specific gravity of the natural type is in the range of 3.58-3.61 and the zinc element in it can increase its specific gravity up to 4.40. This is while synthetic spinels have a specific gravity between 3.64 - 3.63.
Price: Synthetic spinel rough can be from 300 to 800 dollars per kilogram depending on the quality of the manufacturer. Synthetic spinel gem may be as much as one or two dollars per carat! Price is therefore an important factor in the detection of synthetic spinels. Synthetic samples are very glassy. You should note that the best way to identify the original spinel is to purchase it with a valid gem certificate.