Dementoid, diopside, dioptase, grossular (chromium green garnet) determine the type of emerald

Notice: Undefined variable: listTitle1 in /home/anbarasi/domains/anbar.asia/anbar/inc/html/desktop/orderform.php on line 14


Notice: Undefined variable: listHeader in /home/anbarasi/domains/anbar.asia/anbar/inc/html/desktop/orderform.php on line 17

Email
Phone
Country
Reg. date
a...y@...com
002...023
Egypt
2023-01-19
n...2@...com
009...200
Yemen
2023-02-03
3...5@...com
050...845
Israel
2022-11-16
m...i@...com
+98...145
United Arab Emirates
2022-06-14
x...3@...com
009...818
Yemen
2022-04-08
t...8@...com
009...309
United Arab Emirates
2022-12-09
S...n@...com
009...988
Saudi Arabia
2023-02-07
f...c@...com
009...233
Lebanon
2022-09-19
m...5@...com
770...402
Yemen
2022-10-19
b...d@...com
774...204
Yemen
2022-11-01
A...a@...com
+20...583
Egypt
2022-11-08
d...8@...com
776...290
Yemen
2023-01-25
a...1@...com
009...800
United Arab Emirates
2022-11-08
t...r@...com
010...125
Egypt
2023-01-19
e...2@...com
091...185
United Arab Emirates
2022-11-02
A...3@...vom
+96...974
Yemen
2023-01-05
s...4@...com
096...255
Oman
2022-12-26
o...r@...com
+96...223
Yemen
2023-02-06
g...6@...com
009...733
Turkey
2022-11-24
M...t@...com
925...205
Oman
2023-01-11
A...m@...com
009...007
Yemen
2022-09-15
r...5@...com
774...993
Yemen
2022-06-03
s...0@...com
009...654
Afghanistan
2022-10-19
p...i@...com
+90...431
Turkey
2023-01-09
t...y@...com
+96...092
Yemen
2022-11-17
...
...
...
...
...
...
...
...
Only site users can see contact details
Please sign up to see complete contacts information
Marketing in %s market of Middle East Emerald and Gemstones Market
If you want to trade in the Middle East Emerald and Gemstones Market, please join in Anbar Asia. Your order will be shown here, so the traders of Middle East contact you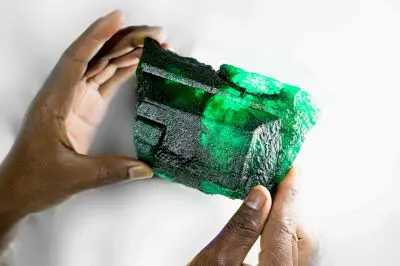 Emerald stone was produced artificially until 1840, but today it is presented in a synthesized form. It is very difficult to distinguish the natural type from the centered one and it requires a lot of knowledge and experience. The stones that may be offered instead due to similarity are: dementoid, diopside, dioptase, grossular (chromium green garnet).
Synthetic Emerald Types
The first artificial crystal was made in 1848 by A.W. Vernoy was produced in a laboratory, and its production technique has evolved to this day.
Synthetic type of Lenix
These synthesized rocks grow in the form of rectangular crystals and not hexagonal prisms. Their optical refractive index is slightly lower than normal.
Synthesized hydrothermal emerald
Characteristic impurities include feathers of biphasic liquids and microscopic cuneiform crystals and elongated floating growth structures.
Synthesized type of flux
In this method, synthetic emeralds grown in the laboratory are melted and can have impurities such as fingerprints, but in larger dimensions, and also traces of the flux process appear in them.
Synthesized regenerative type
These samples were synthesized using the original Linde method and the carbide union method. They have the same light refractive index as normal, although their specific gravity is slightly lower at 2.68. Their iron content is very low and they have a short wave and strong red fluorescence under the ultraviolet light of a flashlight or purple rays.