Charoite is The most attractive gemstone known as purple jade and its price is very high‎ due to rare localities
Marketing in Middle East Charoite and Gemstones Market
If you want to trade in the Middle East Charoite and Gemstones Market, please join in Anbar Asia. Your order will be shown here, so the traders of Middle East contact you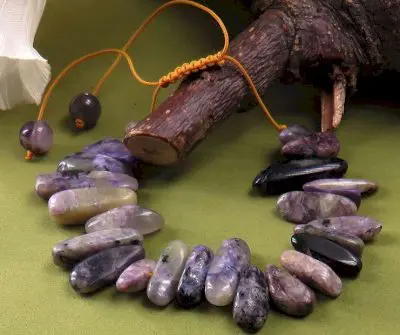 Charoites stone is usually purple, lilac or lavender and will vary in shades of dark to light purple. There are also traces of black, white and gray on the stone, which has made it one of the most attractive Gemstones in the world. Purple rotating patterns and other colors have made it one of the most unique stones!
Charoite, also known as purple jade, was first discovered in the Sakhalin Republic of Russia along the Chara River in the 1940s and was called Charoite when it entered Western markets. The word chary in Russian means magic or charm.
Uses of Charoite
High quality Charoite pieces can be made attractive with cabochon or purple oval cuts. The luster of pearls or chateaux often enhances the beauty of this gem. This stone is usually used in bracelets as a bead or a large pendant jewel. Since the hardness of charcoal is low and slightly higher than the hardness of turquoise, you should be very careful in maintaining it because harder stones can scratch it.
Lower quality charvettes are also used to make small sculptures or as a cover for jewelry boxes and antique decorative items. Most quality antique Charoite racks and specimens are sold in the Russian market itself and are not as common in other markets due to limited stocks and costs.
This beautiful stone is composed of a unique combination of different Minerals that are all put together to create a special gemstone that cannot be found anywhere in the world. That is why the price of Charoite stone is very high. Hundreds of millions of years ago, a mountain of limestone exploded under the influence of magma from beneath the earth's surface.
This hot magma, which contained many different minerals and chemicals, combined with limestone itself, which was a mixture of several other substances. The mixture cooled especially at the point where the magma collided with the limestone, forming a new rock that was later identified and mined as Charoite.