Oxygen is used in the production of steel, plastics, fabrics, steel oxygen cutting, rocket propulsion, oxygen therapy
Marketing in Middle East Oxygen and Chemicals Market
If you want to trade in the Middle East Oxygen and Chemicals Market, please join in Anbar Asia. Your order will be shown here, so the traders of Middle East contact you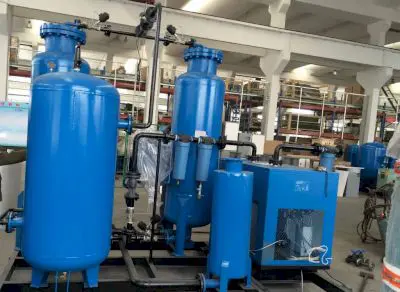 Oxygen is commonly used in the production of steel, plastics, textiles, Oxygen cutting of steel, rocket propulsion, oxygen therapy and life support systems in airplane, submarines, space flights and diving. Multiple applications of oxygen gas as an oxidizer is of high importance. The electronegativity of oxygen is very high, which makes it susceptible to reaction. Only fluorine has a higher electronegativity than oxygen. Due to its oxidizing properties, oxygen is used as fuel in missiles. The discovery of oxygen in the air and its extraction from the air meets the practical needs. Air-extracted oxygen is used in a mixture with low-density gas such as helium as a breathing mixture for respiratory patients as well as divers. Oxygen is also used in welding, Steel production and methanol production.
Oxygen gas is one of the most widely used medical gas in the hospital and in order to survive, in most parts of the hospital, including inpatient rooms, operating room, postoperative care room (recovery), cardiac care unit, neonatal ward, Maternity and emergency department is used. This gas is very dangerous in terms of explosion and combustion and its reaction with hydrogen is very exothermic.
In cells, oxygen is needed for aerobic respiration, which allows energy to be extracted from the food eaten. So supplemental oxygen at home and in hospitals is vital for people with respiratory disorders such as emphysema.
Excess oxygen is needed for surgical patients who are deliberately used for medical procedures, in which case the "heart and lungs" continue their vital function.
Oxygen can be used as a disinfectant to kill some anaerobic bacteria that are killed by adequate gas exposure.
Oxygen is required for the reaction that converts carbon to carbon dioxide gas in steel works, which takes place at high temperatures in a high blast furnace.
The carbon dioxide produced reduces iron oxides to pure iron compounds. Oxygen is used in applications involving metal and requiring high temperatures, such as welding torches.
Oxygen gas forms the compounds with nearly all the elements except the inert gases , It is compressed in iron cylinders to be used in mechanical ventilation for the patients who suffer from breathing difficulties and it is used during surgeries. Oxygen gas is used by the mountaineers at high latitudes during climbing as oxygen gas is heavier than the air, so its percentage decreases when we rise above the Earth's surface. Oxygen gas is used by underwater divers during diving, and the astronauts use it during walking in the space, Oxygen masks are used to ease various medical disorders, like hypoxemia, asthma, the heart , and the vascular diseases. Oxygen gas is used in the formation of the water that is composed of oxygen combines with hydrogen, It is used to kill bacteria causing gangrene (as it is poisonous for them) and it is used to treat carbon monoxide poisoning as well. Oxygen gas combines with acetylene gas to produce an oxy-acetylene flame which is used for cutting, welding, and melting of metals as its temperature rises to 3500 degree Celsius. Oxygen gas is used in the production of iron and steel in the blast furnaces using hot oxygen air,  It also burns off carbon impurities, Even in mines, it is employed as a part of explosives for blasting rocks. Oxygen gas forms the ozone layer in the atmosphere that protects the Earth from harmful radiations that come from the Sun, Ozone molecule is composed of three oxygen atoms (O3). Oxygen gas is used in the manufacture of nitric acid, sulfuric acid, other compounds, and acids, Ozone is used in different chemical reactions to improve the rate of reaction and ensure the fullest possible oxidation of the compounds. Oxygen gas is used in for the combustion to produce the energy in the automobiles, the airplanes, the ships, the generators, the industrial process, Liquid oxygen gas is used in burning of fuel in the spacecraft for generating the required thrust in space where there is neither air nor oxygen. Oxygen gas is used for environmental protection in the domestic and industrial wastewater treatment plants and facilities, and also it is used in the conversion of iron ore into steel.